Integration with an ERP system; B2B eCommerce guide
If you have decided to expand your business to the eCommerce market, you are surely looking for the best B2B eCommerce platform that guarantees successful online sales. You need an adaptable B2B eCommerce solution that will simplify receiving orders and enable your clients a personalized buying experience. But, if you are a Microsoft Dynamics 365 Business Central user, you are probably also interested whether the integration with an ERP system, where all your data is already stored, is possible.
If you have opted for an integrated B2B eCommerce system as the right solution for online wholesale, the short and simple answer is – yes, it is possible. If you carefully plan the integration of B2B eCommerce and the ERP system, this whole process can be rather painless and cost you a lot less time and money than you think.
If you are ready to implement the integrated B2B eCommerce solution or you are just thinking about using such a system, here are a few things to keep in mind.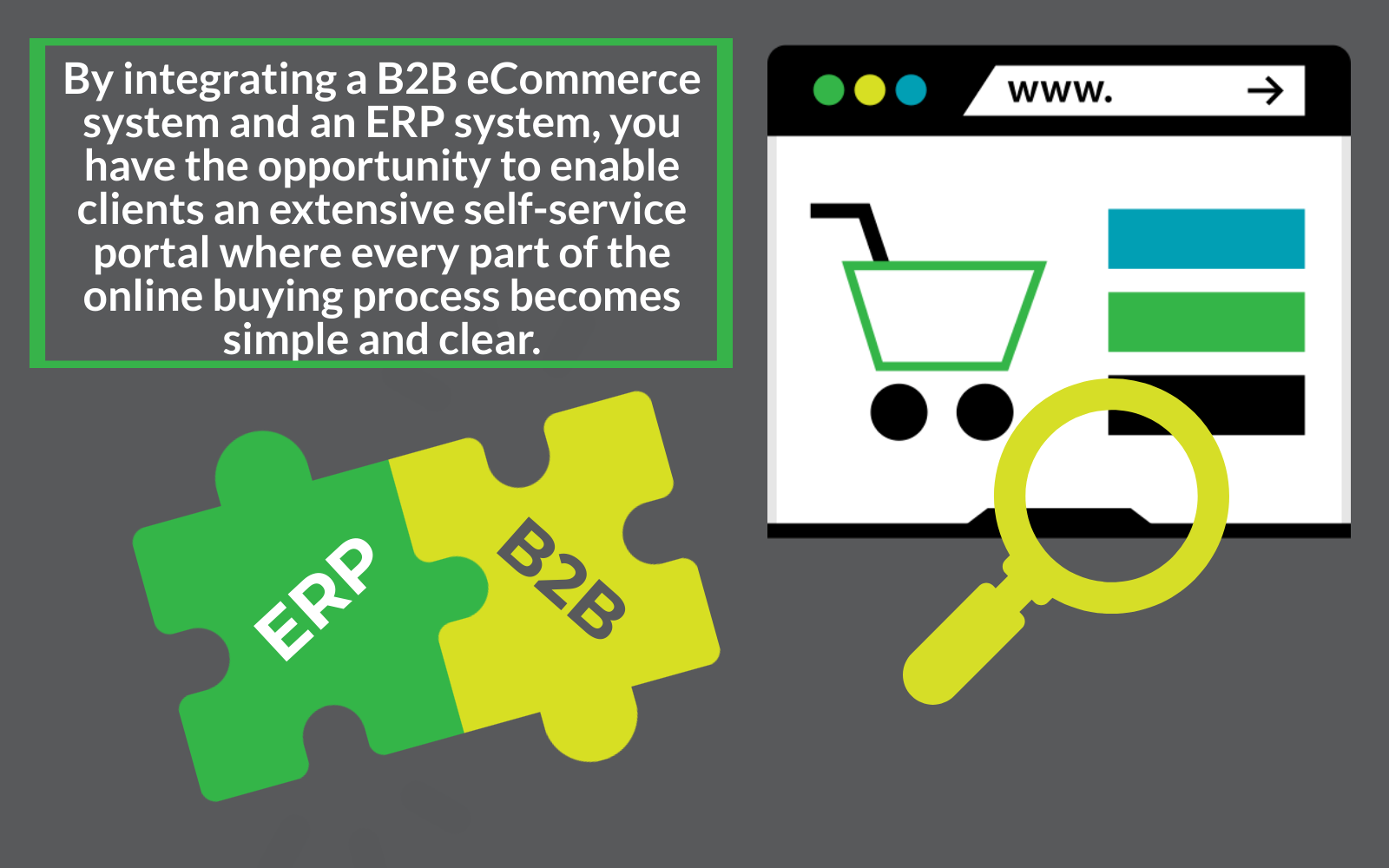 Why is integration with the ERP system important?
The most important reasons for integrating eCommerce with the ERP system greatly depends on your business model and long-term goals. However, here are some benefits of the integrated B2B eCommerce system you can always count on;
B2B eCommerce as a self-service portal
By integrating B2B eCommerce and the ERP system, you have the opportunity to provide your clients with an extensive self-service portal which makes every part of the online buying process simple and clear.
These eCommerce solutions save time for B2B clients, because they simply find wanted articles with the help of available search filters already defined in the Microsoft Dynamics NAV system. According to clients' wishes, the product search can be additionally expanded with the help of outside data sources. This way you are guiding the B2B buyer towards a product that fulfils his needs and expectations.
More efficient business reporting
An integrated B2B web shop offers detailed analytics of buyer movement in eCommerce, tracks their behaviour and offers them alternative products if wanted ones aren't available. It significantly helps in using cross-selling and up-selling possibilities in online sales and in preventing your buyers to leave your B2B web shop empty handed.
Clients also have the option of live chat and adding comments with orders, which significantly helps in easier recognition of buyers' needs. All these advantages contribute to product and offer development, and an advanced pricing strategy.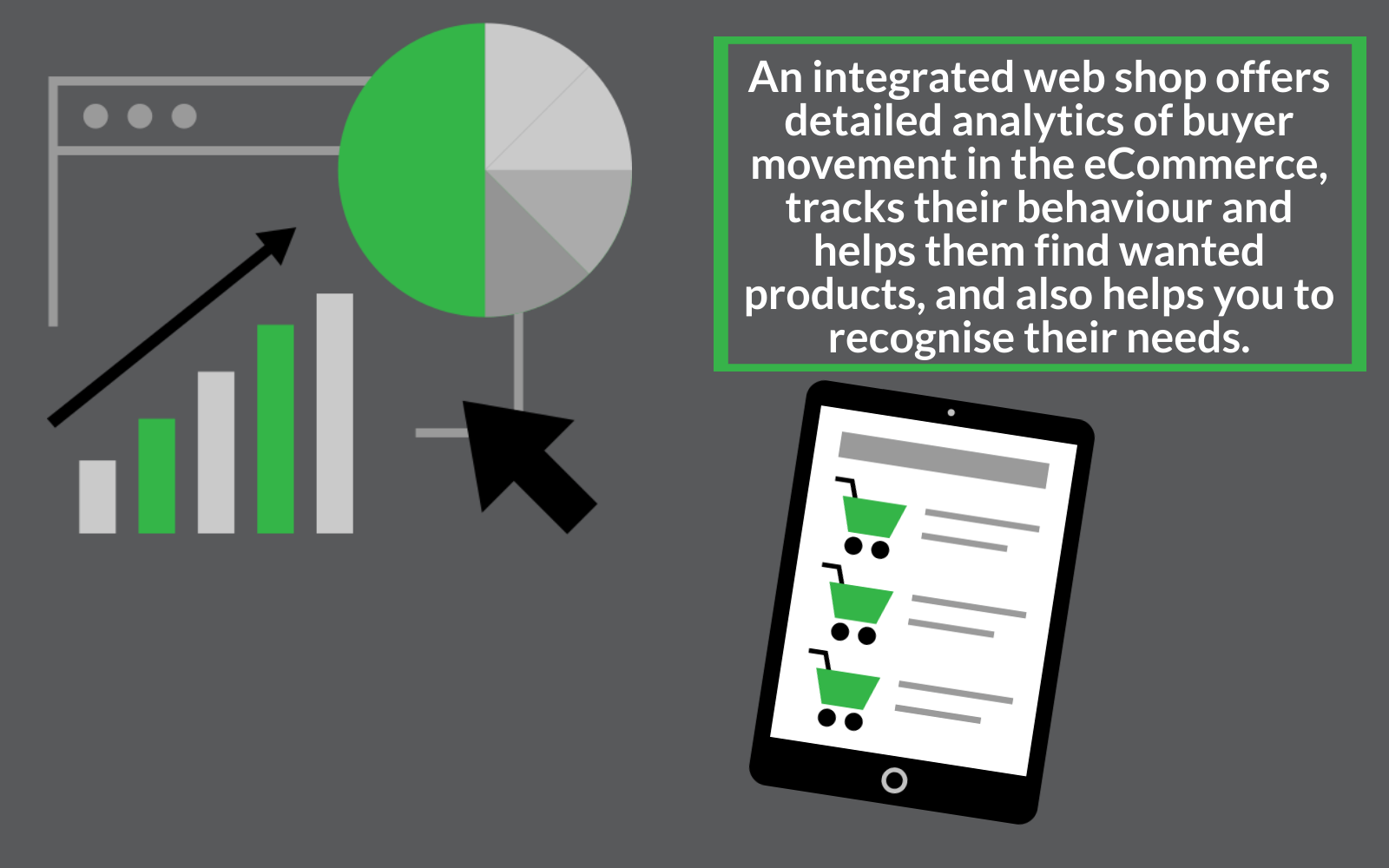 Automatization of the sales process
One of the biggest advantages of the integrated B2B eCommerce system is the automatization of the sales process where you get an insight into unique information which is important for your sales and marketing. Microsoft Dynamics 365 Business Central system is also integrated with other Microsoft tools – Outlook, Office 365, SharePoint, CRM, Power BI etc. That is exactly why integrating B2B eCommerce with the ERP system enables managing all this information from one place. The production process, inventory data, storage and delivery or client communication; all this becomes much simpler.
Therefore, an integrated B2B eCommerce platform isn't a separate new system, but an extension of the ERP. That's why it guarantees a 100% accurate data. Also, it provides your clients with a unique experience of ordering via eCommerce. That way you are expanding your business while having lower administrative and maintenance costs and without increasing the sales team.
Fewer mistakes in creating orders
Almost 50% of mistakes in online orders that lead to returns in B2B eCommerce, affect the profitability and sales of a B2B company. One of the main culprits for these mistakes is the human factor for which there is no room in the integrated B2B eCommerce.
The integration of B2B eCommerce with the ERP system enables your clients an insight into real-time information on the inventory. Also, they can create new orders very easily form the existing ones and in just a few clicks repeat the order they were pleased with in the past.
Even when a mistake occurs, you can significantly reduce its impact on client satisfaction with the help of an integrated B2B web shop, because systems like these enable returns. That way you are significantly saving time for your clients.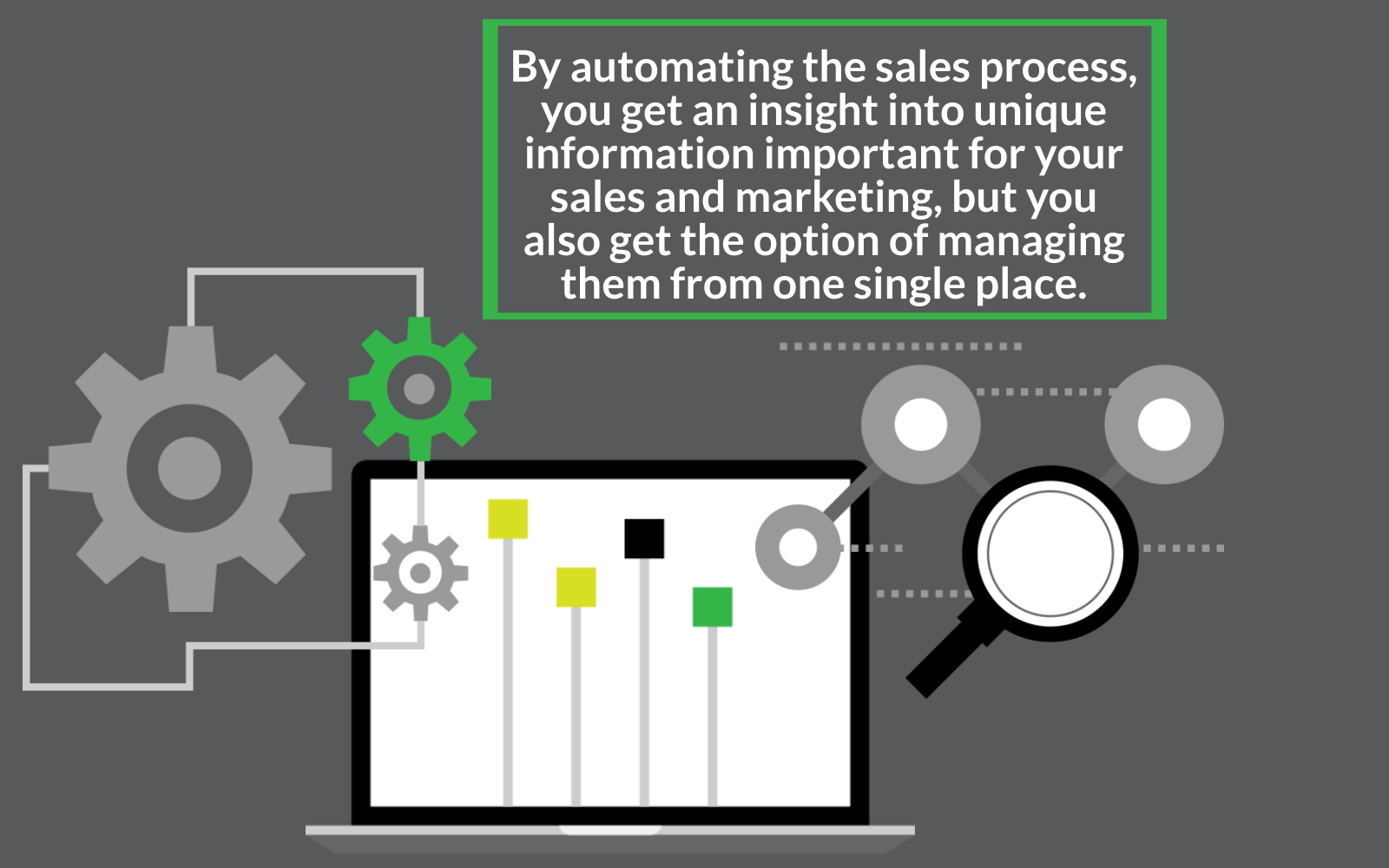 A successful path towards an ERP integration
Integration with the ERP system often sounds daunting to B2B companies, especially if their employees aren't technologically "apt". Still, the whole process on integrating B2B eCommerce and the ERP system can be much simpler than you think. That's why we are giving you a list of things to pay attention to when planning the implementation of the integrated B2B eCommerce solution;
The base for a successful online wholesale are clearly defined eCommerce goals. What do we mean by that? Ecommerce goals can be, for example, removing mistakes in orders, increasing the efficiency of the ordering process, a better user experience for B2B clients, expanding to new markets or increasing income and the number of buyers. Integration with the ERP system has to support such goals.
Recognize key stakeholders
Before implementing an integrated B2B eCommerce solution, it is important to regularly consult with the team that uses your ERP system and the eCommerce platform. Finance, marketing and sales departments surely have an insight into information and processes that will contribute to the success of the integration. Don't forget the suppliers and clients that can also indicate some key issues that should be considered.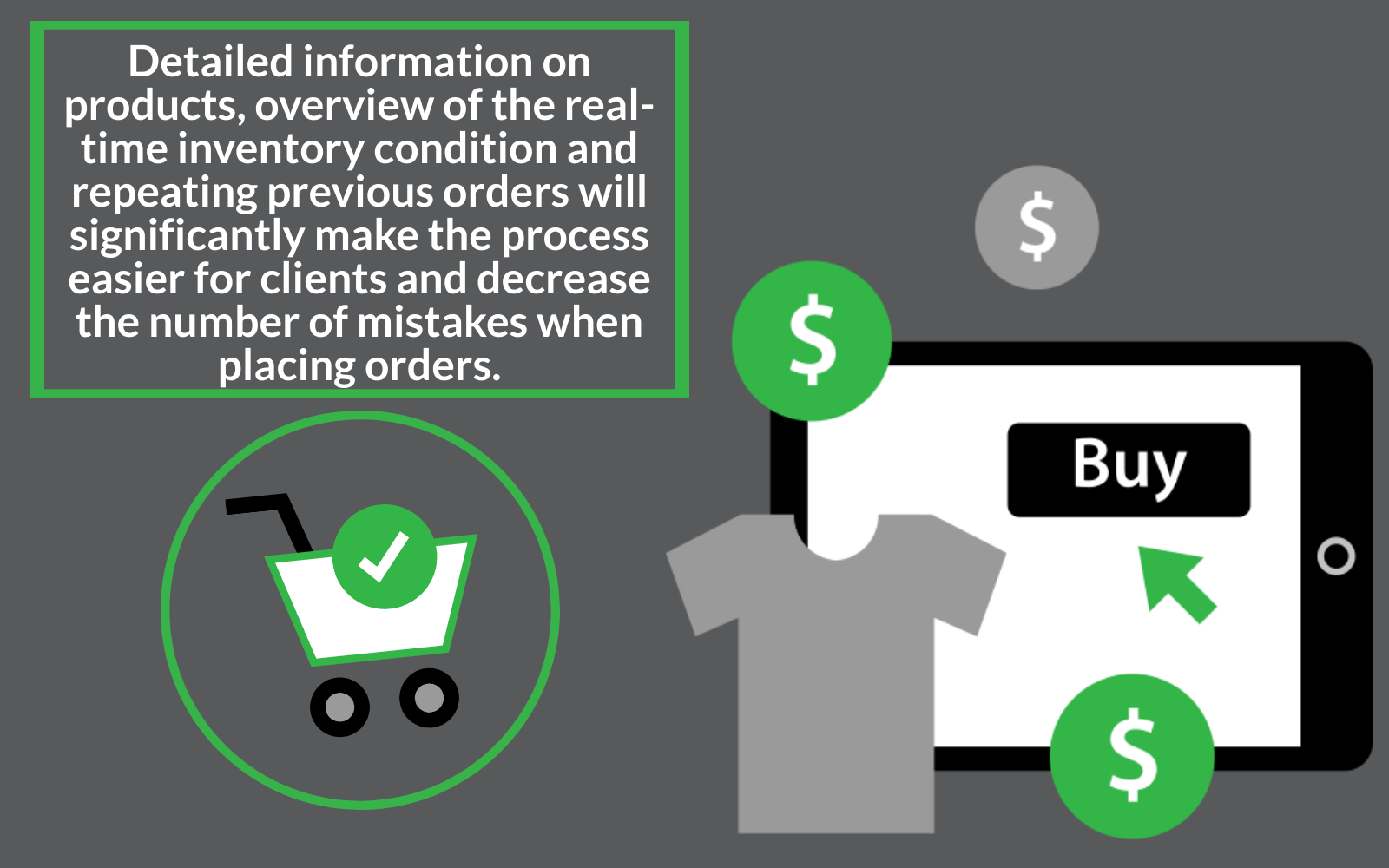 Set an ERP system budget and choose the right eCommerce partner
Determining the budget for the ERP system is a key issue before choosing the right B2B eCommerce partner. So, if you have a limited budget at your disposal, you have to prioritize your demands.
When choosing the best B2B eCommerce supplier, you should definitely consider its previous experience on B2B eCommerce projects and besides, you need a supplier whose professionality and work processes are compatible to yours. That is the only way to establish an efficient collaboration in the future. Thus, you don't only need an eCommerce supplier that will be able to deal with your way of operating, but a B2B eCommerce partner you will build a long-term relationship with.
Gather a successful eCommerce team
Every B2B eCommerce project needs somebody to be responsible for its implementation and to manage a team of people who will be committed to it. Therefore, you need a quality eCommerce manager. A B2B eCommerce project reaches a truly great number of, if not all departments within your company. Integration with the ERP system has to include your employees with various skills and knowledge.
You are ready for the digitalization of your sales after learning about the main advantages of integrating B2B eCommerce with an ERP system? If You want to offer your products via B2B eCommerce, contact us for more information and learn everything on the latest software solutions that will help you.