How to choose the best B2B eCommerce platform?
You have decided to expand your sales to the online market and offer clients all the benefits of the eCommerce business. Once you have made all the necessary preparations and reached the pivotal part of your eCommerce project, you need a B2B eCommerce platform. But, how to choose the best solution that will follow your eCommerce plans?
The choice of the best eCommerce supplier starts with choosing the appropriate eCommerce software. But that is only the beginning. In order to really find the best partner for your B2B eCommerce project, there are other criteria that have to be considered when comparing the available offer. Here's what you should pay the most attention to.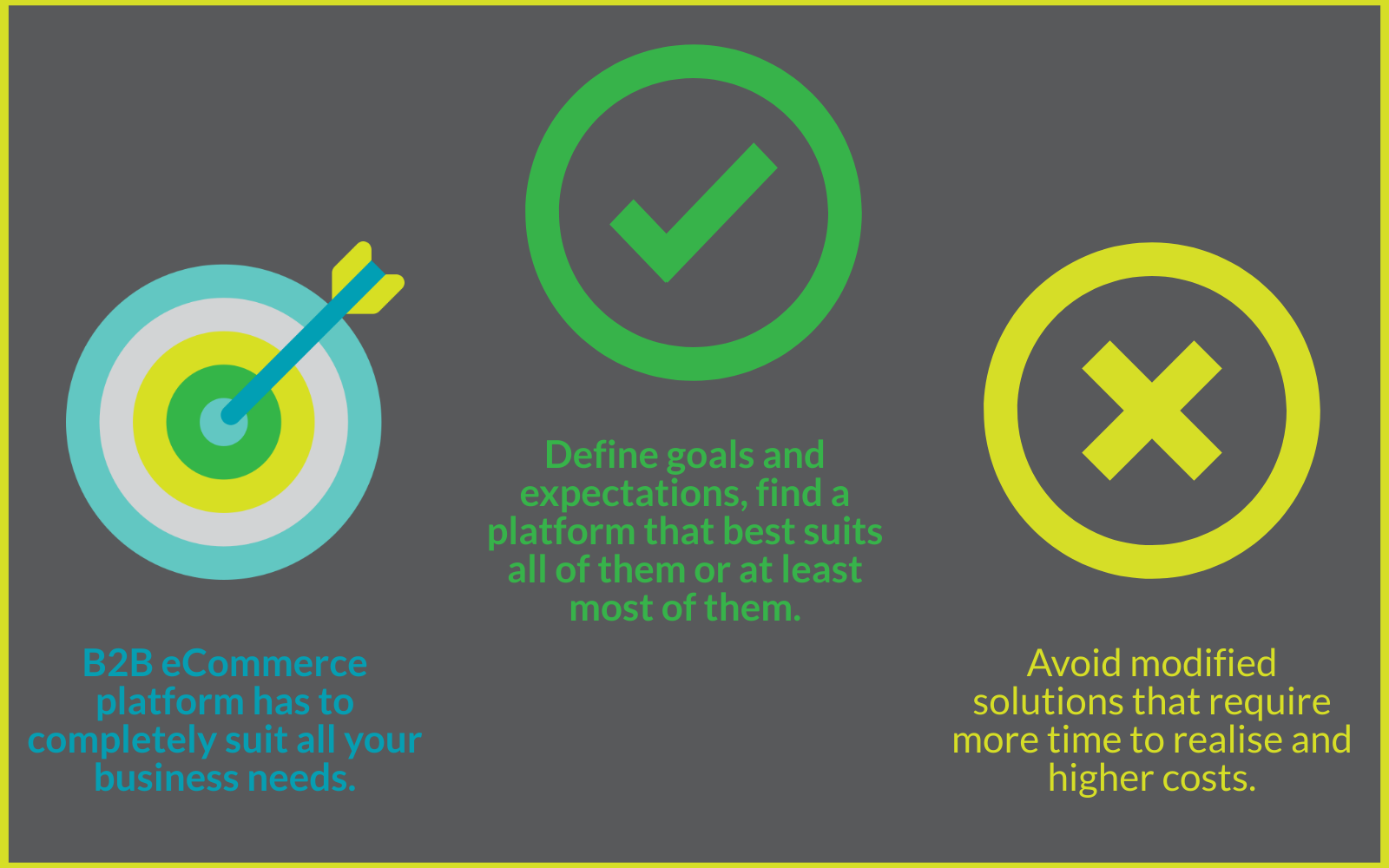 A comparative analyses of eCommerce platforms; which solution best suits your needs?
B2B eCommerce platform has to completely suit your business needs. Thus, your first step is finding an eCommerce supplier that can offer you such a solution. Before you start contacting available suppliers, you have to clearly define your B2B eCommerce goals and expectations from the new eCommerce software solution.
After that, look for a supplier whose standard offer answers if not all, then almost all of your B2B eCommerce demands. In doing so, be sure to avoid modified and specially adjusted solutions that require more time to realize and come with higher costs.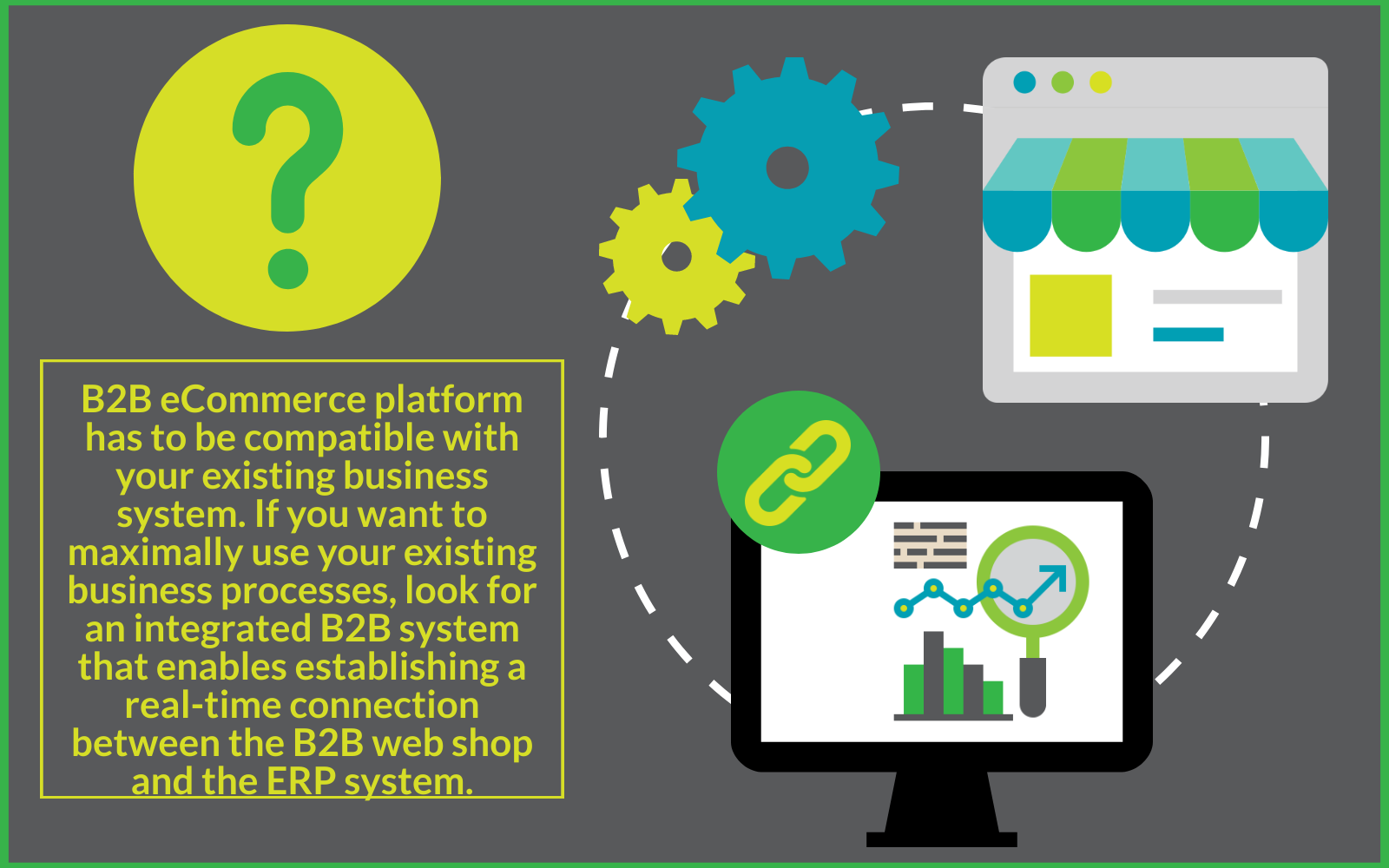 The integration of B2B eCommerce solutions and business processes
One of the key issues when choosing a B2B eCommerce platform is compatibility with the current IT infrastructure and the business system of your company. B2B eCommerce solutions that will result in extra maintenance costs and create room for mistakes should definitely be avoided. Also, consider that a B2B eCommerce platform will maximally utilize the already existing business processes and that it is compatible with earlier technological investments.
How to simplify it? With the help of an integrated B2B system that enables making a real-time connection between the B2B web shop and an ERP system like Microsoft Dynamics NAV/Microsoft Dynamics 365 Business Central. The results are: simpler implementation, lower maintenance costs, prompt real-time information on the inventory, pleased clients and maximal time savings.
Such B2B eCommerce platform aids all the information and business logic, already located in the ERP system, in becoming a powerful tool for creating an excellent online shopping experience. For example, one of the biggest advantages of the integrated B2B eCommerce system is that it enables the buyers to create orders based on direct data on the condition of the inventory. That way, buyers have accurate and updated information on the availability of products, which makes it easier for them to create orders.
Also, in an integrated ecommerce, it is impossible for the buyer to create a new order, when there are earlier, undelivered orders. The buyer has an overview of all orders, including offers, opened and finished orders, at any time.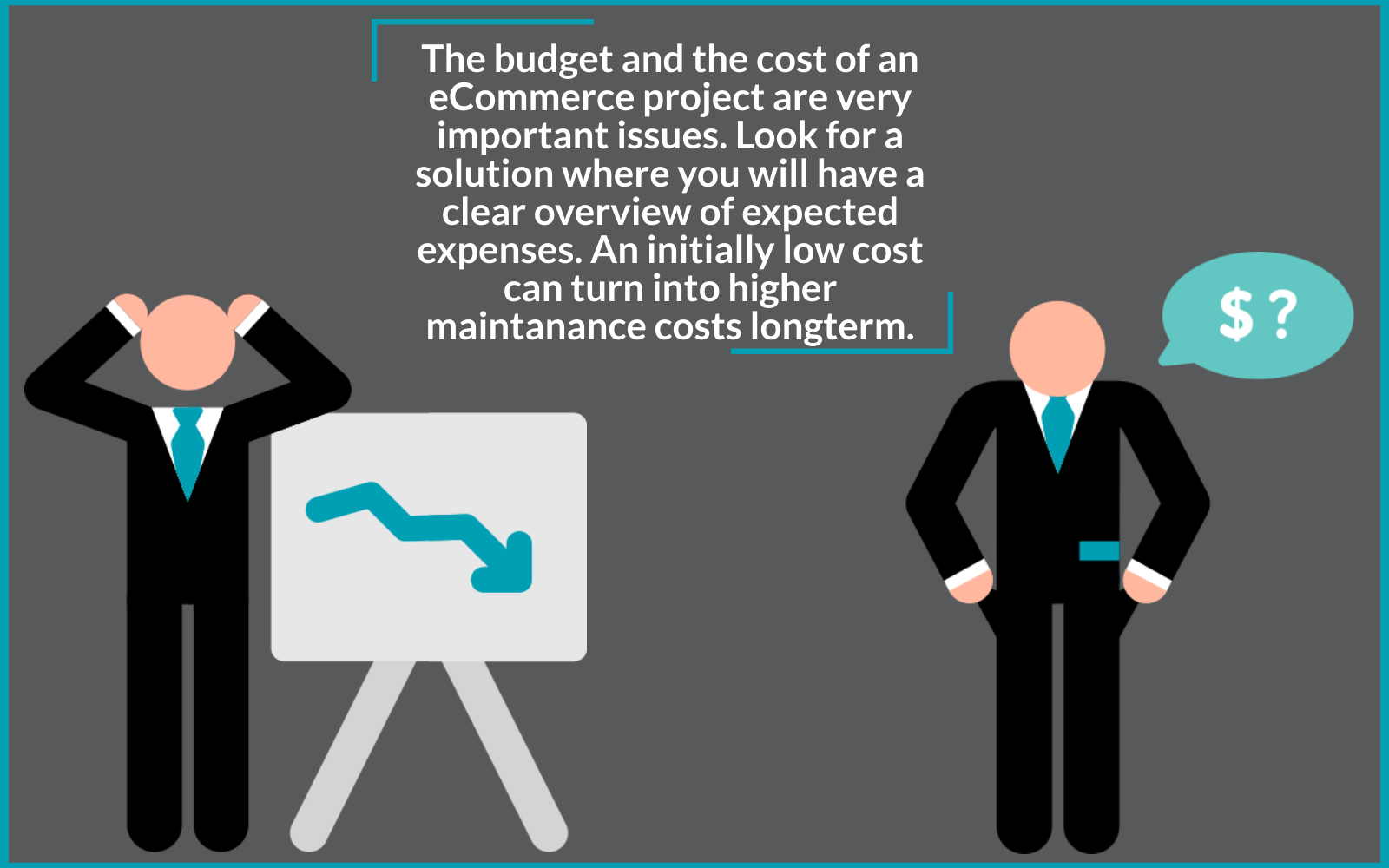 B2B eCommerce platform and costs
The budget of a B2B eCommerce project is of crucial importance when choosing an eCommerce supplier. That is exactly why there are numerous criteria that you have to consider when comparing the available offers. Here are some of them:
The cost of an unconventional software solution
The charge and cost of implementing a B2B eCommerce system
The cost of additional adjustments of a B2B eCommerce system that aren't included in the standard offer
The cost of maintaining a B2B eCommerce platform
So, B2B eCommerce solutions come with different price lists. But, you should aim for a solution where you will have a clear overview of expected costs from the beginning. You also have to be aware that a comparative analysis of different B2B eCommerce suppliers is quite tricky in some cases.
In fact, lower initial costs of maintaining a B2B eCommerce system can sometimes turn into higher costs in the long term. That is precisely why you should get acquainted with all potential costs that a B2B eCommerce platform can bring, on time.
And we don't mean just money here, but also internal resources needed for launching and maintaining B2B ecommerce. Internal resources also cost money, and how much of them will you need depends primarily on the ecommerce platform you choose for the digitalization of sales. Some platforms are more automated than others.
For some of them, you will need a whole team of people to process orders manually. On the other hand, with the help of an integrated B2B ecommerce, your B2B web shop becomes a self-service platform for clients, which guarantees an excellent user experience.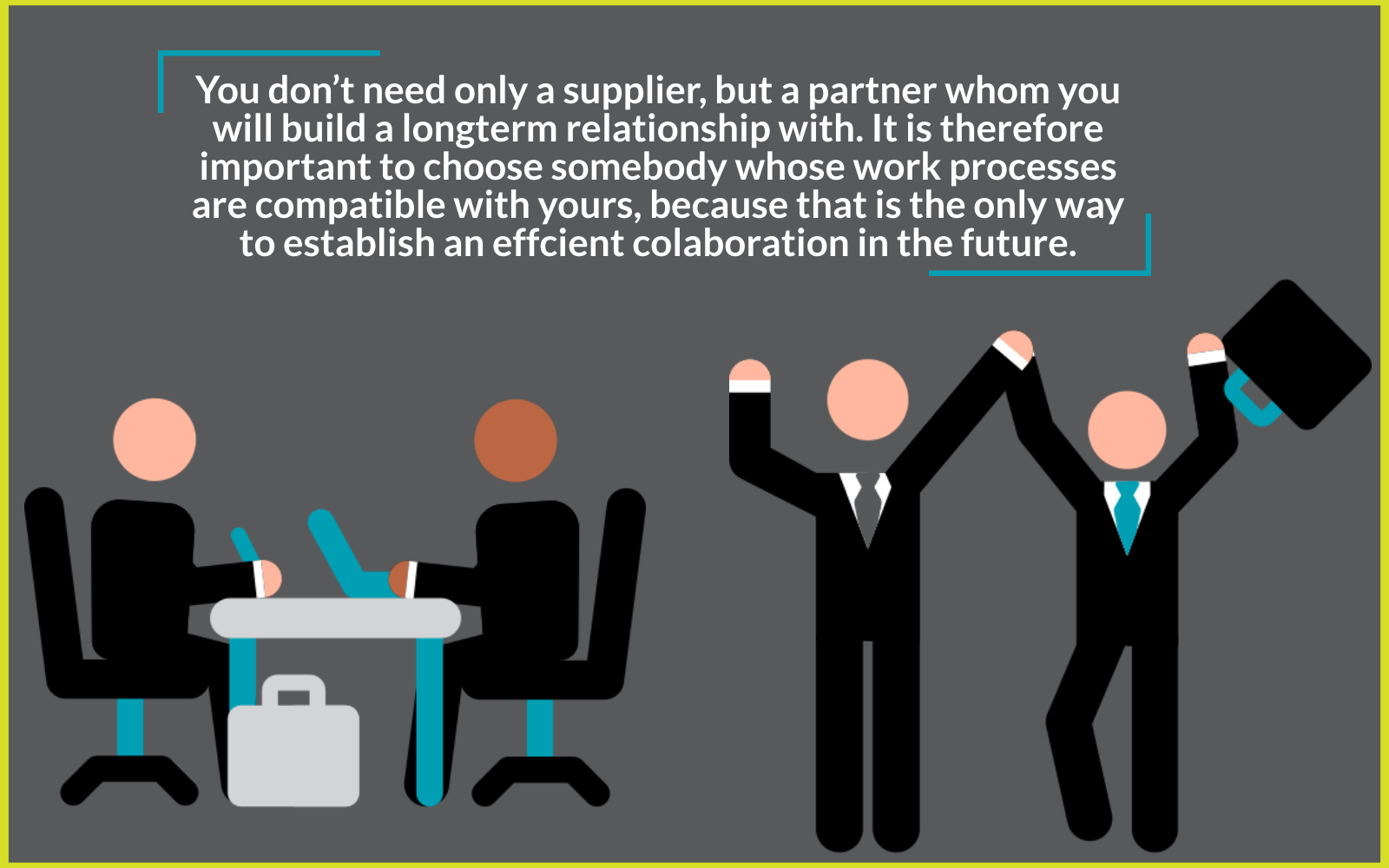 Ask for more from eCommerce suppliers – choose a B2B eCommerce partner
When choosing the best B2B eCommerce supplier, be sure to consider the supplier's previous experience on B2B eCommerce projects. Also, it is equally important to consider why a certain supplier would be the best option for your company. That means that you need a supplier whose professionalism and work processes are compatible to yours.
That is the only way to establish a flawless and efficient collaboration in the future. So, you don't need only an eCommerce supplier who will be able to cope with your manner of doing business, but also a B2B eCommerce partner with whom you will be able to build a long-term relationship.
Have in mind that before, during and after implementing B2B eCommerce, you will surely need the support from the eCommerce suppliers, so you should definitely check the extent of support included in the offer. That is the only way to ensure at any moment that your B2B ecommerce project develops without any difficulties and delays.
If you want to offer your products via B2B ecommerce, contact us for more information and learn everything on the latest software solutions that will help you.