How to leverage client feedback for building a successful B2B eCommerce?
Ecommerce in wholesale often implies a much closer relationship with buyers than B2C ecommerce. Why is that? Because you contact your clients more often, know their names, addresses and phone numbers. You may even know much more personal information about them, like dates of birth, personal interests or their children's names.
At the same time, that means that B2B clients are more willing to give feedback on the service provided by B2B ecommerce. Actually, B2B buyers want to help you make their ecommerce shopping experience even better. Because of the trust you have built with them, B2B clients will point out any "oversight" or "mistake" in the web shop, even when you don't expect them to.
You should use this information to experience their online shopping experience even better. Every complaint can motivate you to  act constructively, and the feedback from your clients could be a powerful tool for creating a better B2B ecommerce user experience.
The more time and effort you put into gathering feedback from your buyers, the more valuable and useful information you will get. In other words, there is a bigger likelihood that you will make significant improvements that guarantee an even better B2B ecommerce user experience.
Analyse B2B ecommerce with the help of online monitoring tools
Online monitoring tools are a great way to log habits, behaviours and user experiences of your B2B clients. Imagine entering some real store for the first time. Upon entering, one of the employees approaches you, asks how did you find the store, follows you around and in the end after purchasing asks you to evaluate your shopping experience and to sign up for their newsletter. Luckily, ecommerce in wholesale enables you to get all this information in a lot more subtle and simpler way.
You are interested in what your clients commonly buy and how often? What are their other habits? An integrated B2B ecommerce helps you here, because these systems track the behaviours of B2B buyers themselves and offer them related or when needed, alternative products. Also, a client has the option of live chat and adding comments with the order. All this information helps you to recognize your buyers' needs.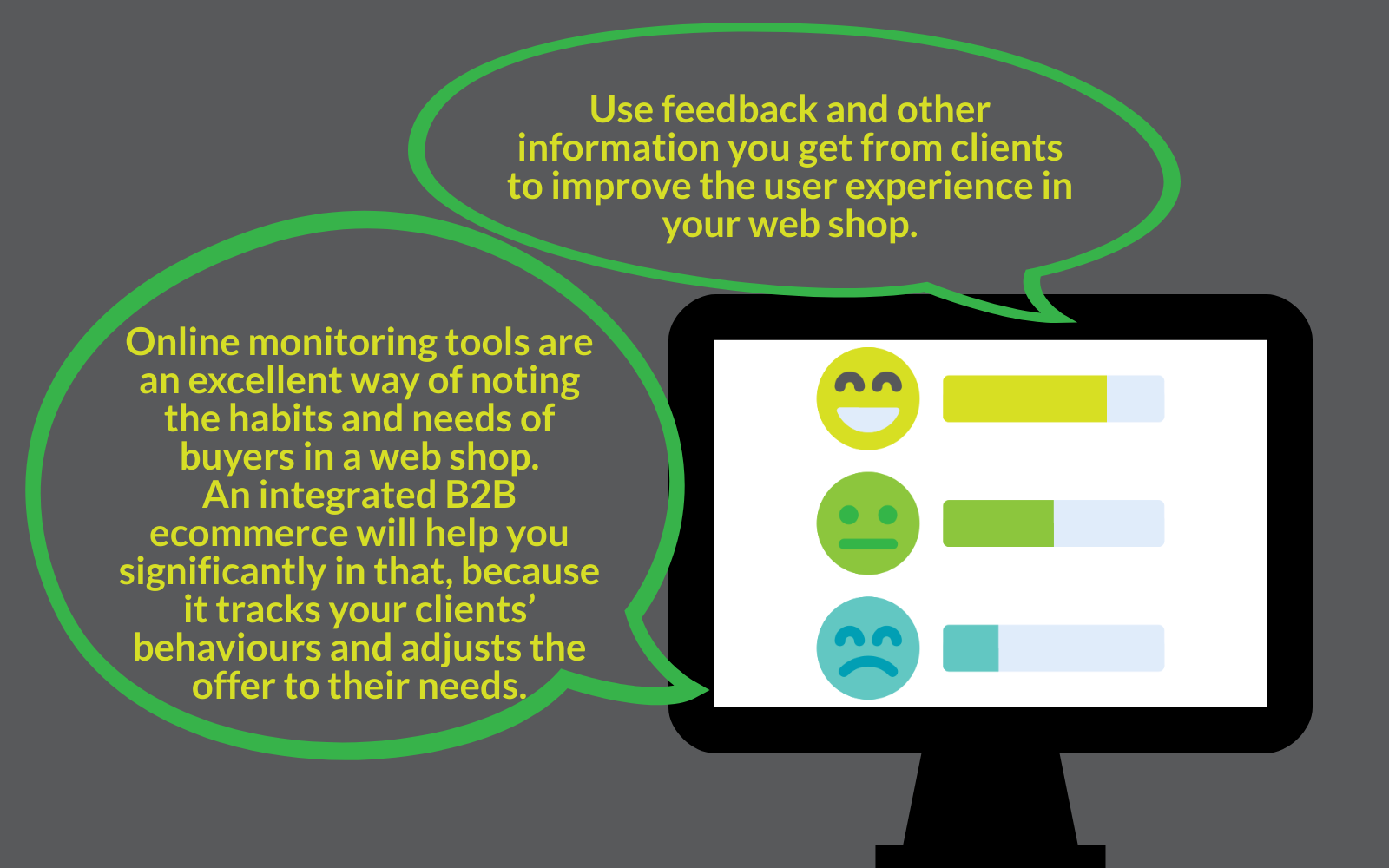 Better B2B ecommerce shopping experience by using online panel and user groups 
So, as we mentioned before, B2B ecommerce enables you to know your clients very well. This close relationship with a client helps you to provide them the best possible online shopping experience. On the other hand, precisely because of being in constant contact with them, you can ask for feedback more easily.
Thus, employ account managers to ask for feedback from your clients and evaluate their B2B ecommerce shopping experience. To that effect, you can even form and online panel or smaller user groups intended only for a certain number of more important clients.
Such user groups don't have to be that big in effect. Only five clients are enough to detect 85% of potential problems in a B2B web shop. If the number of users is increased to 12, you will be able to detect between 90% and 99% of potential problems. Still, it is recommended to stay at five clients which will help you get quality feedback on a regular basis.
You can even take it a step further and invite B2B clients to a meeting or a workshop where you will present them with new improvements that you plan to implement in B2B ecommerce. That way, the clients themselves can try new solutions and give you their feedback directly. Also, you can directly get new suggestions for improving ecommerce service, which you may have not thought of yourselves. Anyhow, the biggest value of this approach is that the buyer understands how important their opinion is to you.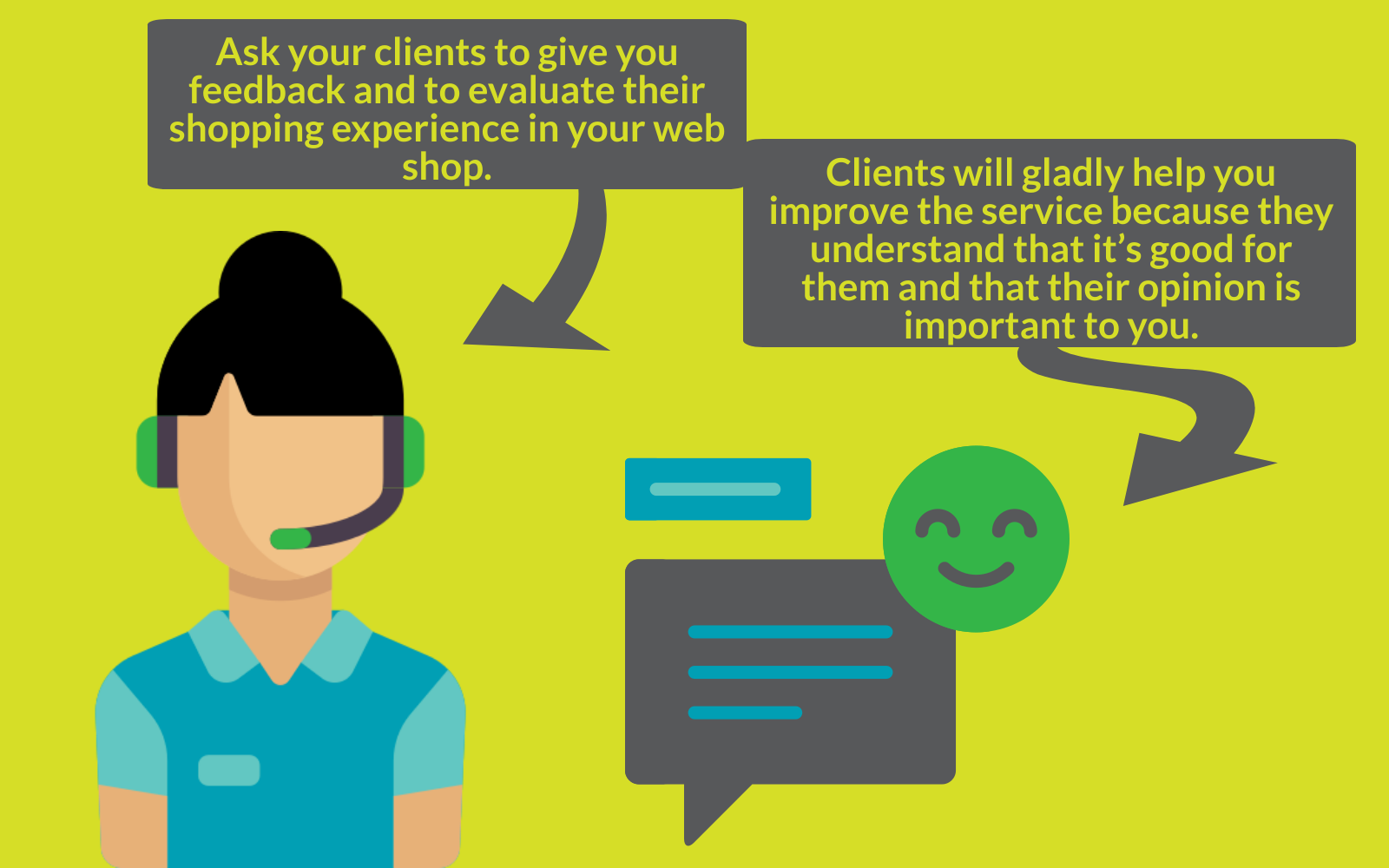 Explain to clients why you need their B2B ecommerce user experience
When gathering information on how do B2B clients experience your ecommerce in wholesale, regardless if you do it directly or online, you should always explain to them why you are doing it. What does that mean?
When a B2B client delivers his user opinion himself, or you ask that of him, you have to explain why you need that information and how do you plan on using it.
Owing to that kind of approach, clients will realise that you value their opinion which is why they are more likely to give you their opinion in the future. At the same time, B2B buyers are building a positive attitude and opinion towards your company.
When it comes to user groups of more important clients, you can take it a step further. Before announcing the planned changes and modifications in the B2B web shop, with which you plan to additionally improve their user experience, ask the clients to try them out themselves and tell you what they think.
Regardless of the approach you opt for, the more time you put into gathering and processing feedback from your clients, the more useful will all the gathered data prove to be. A quality feedback leads to more useful improvements in B2B ecommerce and a greater satisfaction of your B2B ecommerce clients.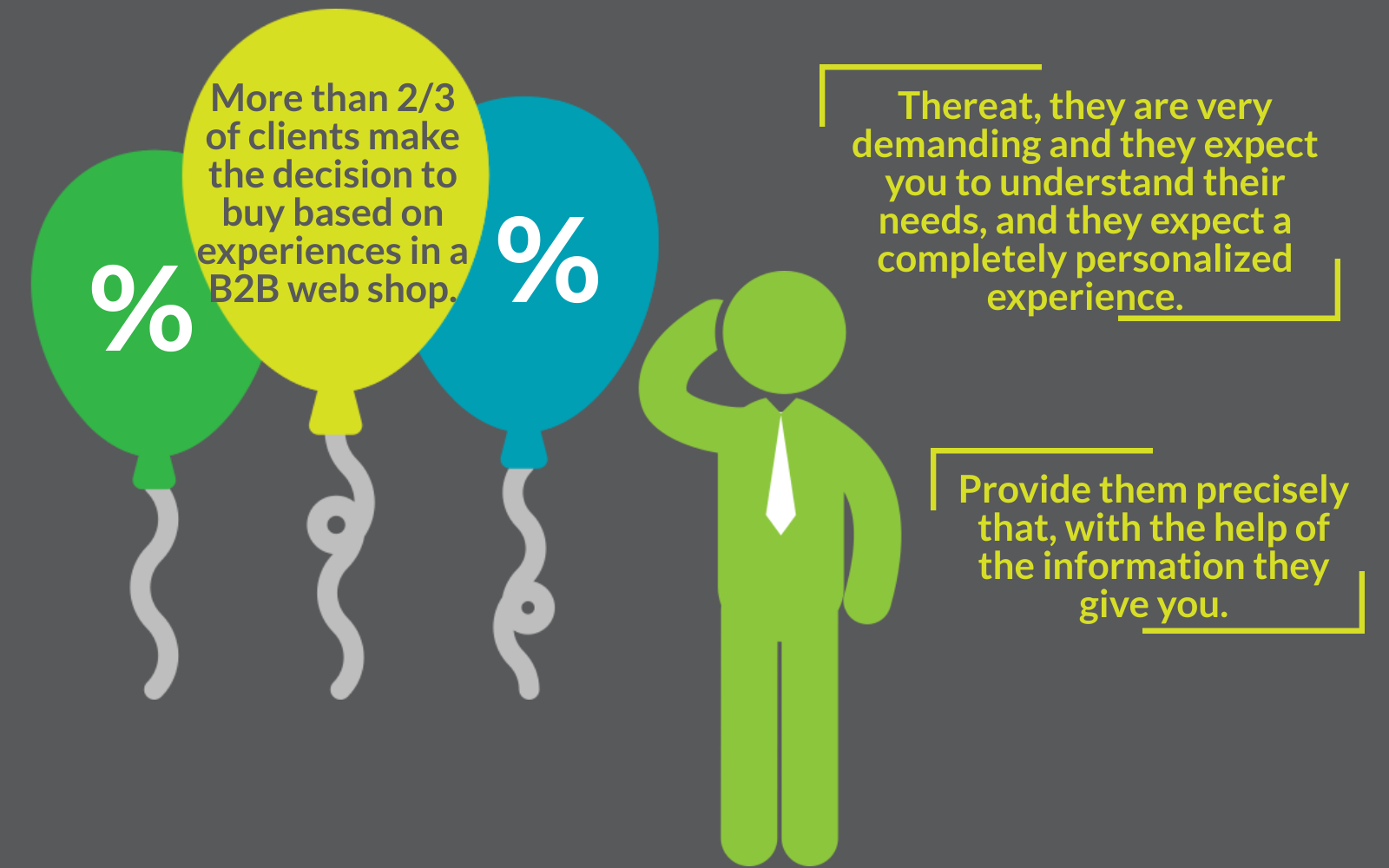 Buyers control trends in B2B ecommerce
More than 2/3 of B2B clients make the decision to buy based on the user experience they had in your B2B web shop. And thereby they are very demanding and expect you to understand their needs and expectations from a financial and an intellectual standpoint with a completely personalized approach.
How to provide them that? Precisely by gathering their feedback on what parts of your service should be modified, where should you expand the offer and how to make their online shopping experience even more pleasant.
A very important part of a positive shopping experience in B2B ecommerce are a personalized offer, communication in the delivery process and being involved with the client. Your B2B clients want advantages they can't get anywhere else and if you enable them that, they will realise that your B2B ecommerce is the best solution for them.
So, your buyers want accurate real-time information on the condition of your inventory, a simple catalogue viewing and a fast, efficient and personalised buying. Then it is time to provide them exactly that! An integrated B2B ecommerce system enables the client to track offers, clear details of all previously created orders, detailed information on prices and prompt calculations of various tax rates, downloading catalogues and printing necessary documents anytime anywhere.
Also, an integrated B2B ecommerce enables detailed analytics on buyer movement inside the B2B web shop, which enables you to recognize any shortcoming before it becomes a problem or a reason for the buyer to give up purchasing. All this information guarantees a positive shopping experience in a B2B web shop.
You are looking for a quality ecommerce platform to make the whole process easier? Contact us today to be presented with the best solutions for pleased online clients and a successful B2B web shop.