Hecta system vs Magento: what is the difference?
Hecta and Magento are both eCommerce platforms. But there are some big differences between them. As an integrated B2B eCommerce system, Hecta is directed at B2B sales, distributors and manufacturers.
Magento, on the other hand, is widespread among B2C traders. Most people in search of an eCommerce solution will sooner or later come across this very popular open source platform for creating a web shop. You want to know the difference between Magento and the Hecta system? Keep reading for the answer.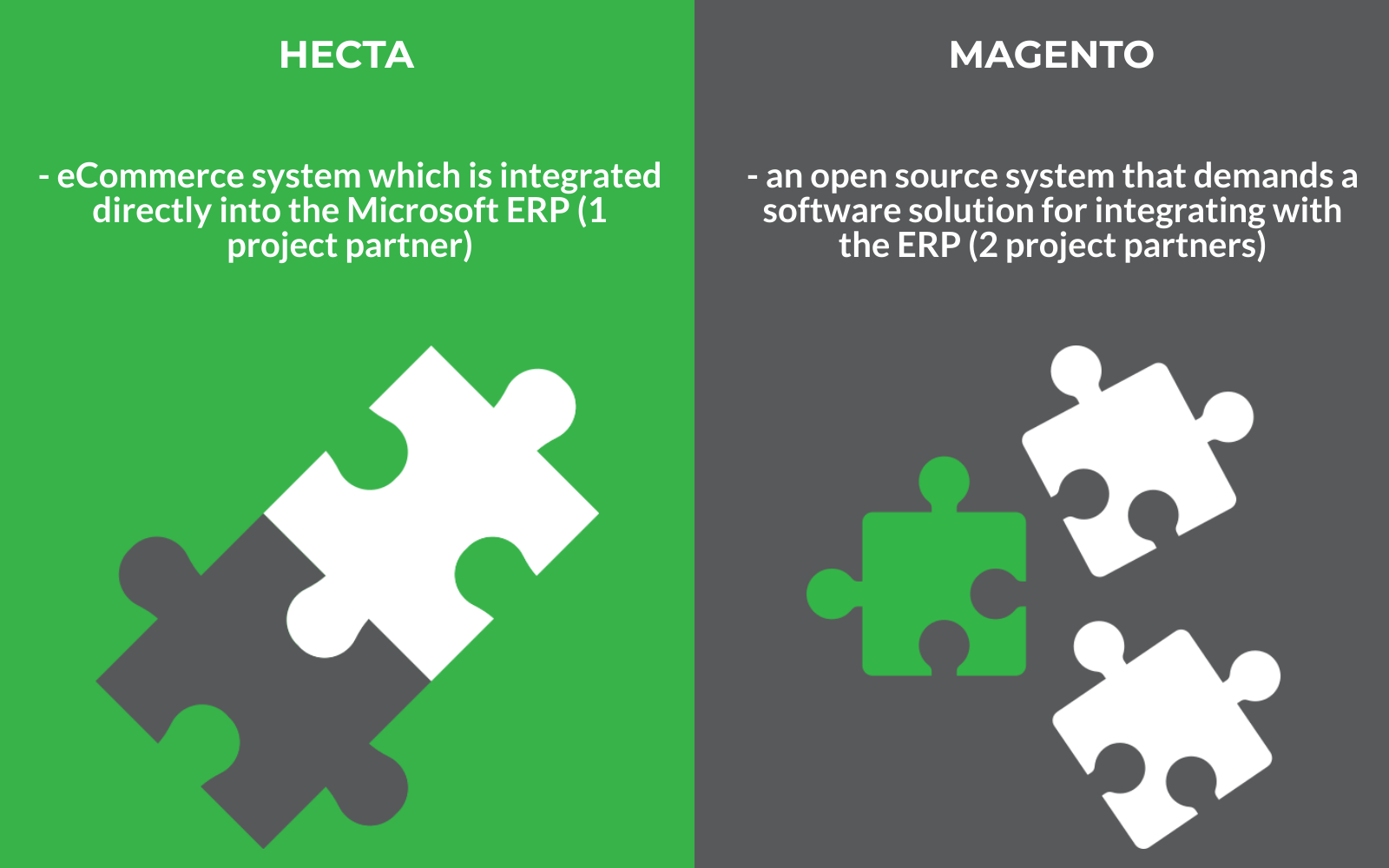 ERP integration as the base of the Hecta system
Hecta is a B2B eCommerce solution developed for the ERP system Microsoft Dynamics 365 Business Central. It differs form other B2B eCommerce systems in being completely integrated with the ERP that makes the base of Hecta. Therefore, Hecta functions as a kind of an extended arm of the Microsoft Dynamics NAV, where all the user's data is already stored.
That way, users can take the best out of an ERP system they are already using. Still, this approach isn't common in the eCommerce world. Most of eCommerce platforms function as an individual system, that isn't directly linked with the ERP. An additional software solution is necessary for their mutual connecting.
Hecta is completely different in that regard, because it can't function without an ERP system. In Hecta, it is not even possible to make a product independently, because all data is automatically taken from the Microsoft Dynamics NAV. That way, the user has a 100% accurate data in two systems at any moment, and all changes in the MD NAV are automatically displayed in Hecta. This also refers to client information, previous orders, price lists and product descriptions.
The advantages of integrating with an ERP system
Hecta and Microsoft Dynamics 365 Business central system operate as a whole. One of the biggest advantages of such integration is the automation of the sales process in which the client gets a complete insight into unique information important for sales and marketing. Namely, Microsoft Dynamics 365 Business Central system is integrated with other Microsoft tools – Outlook, Office 365, SharePoint, CRM, Power BI, etc.
That is precisely why the integration of Hecta and the MD NAV enables managing all this information from one place. The manufacturing process, inventory information, storage and delivery or client communication all become much simpler. Such eCommerce solution significantly saves time needed for the synchronization of more complex data, expands business with lower administration and maintenance costs – and all this without increasing the sales team.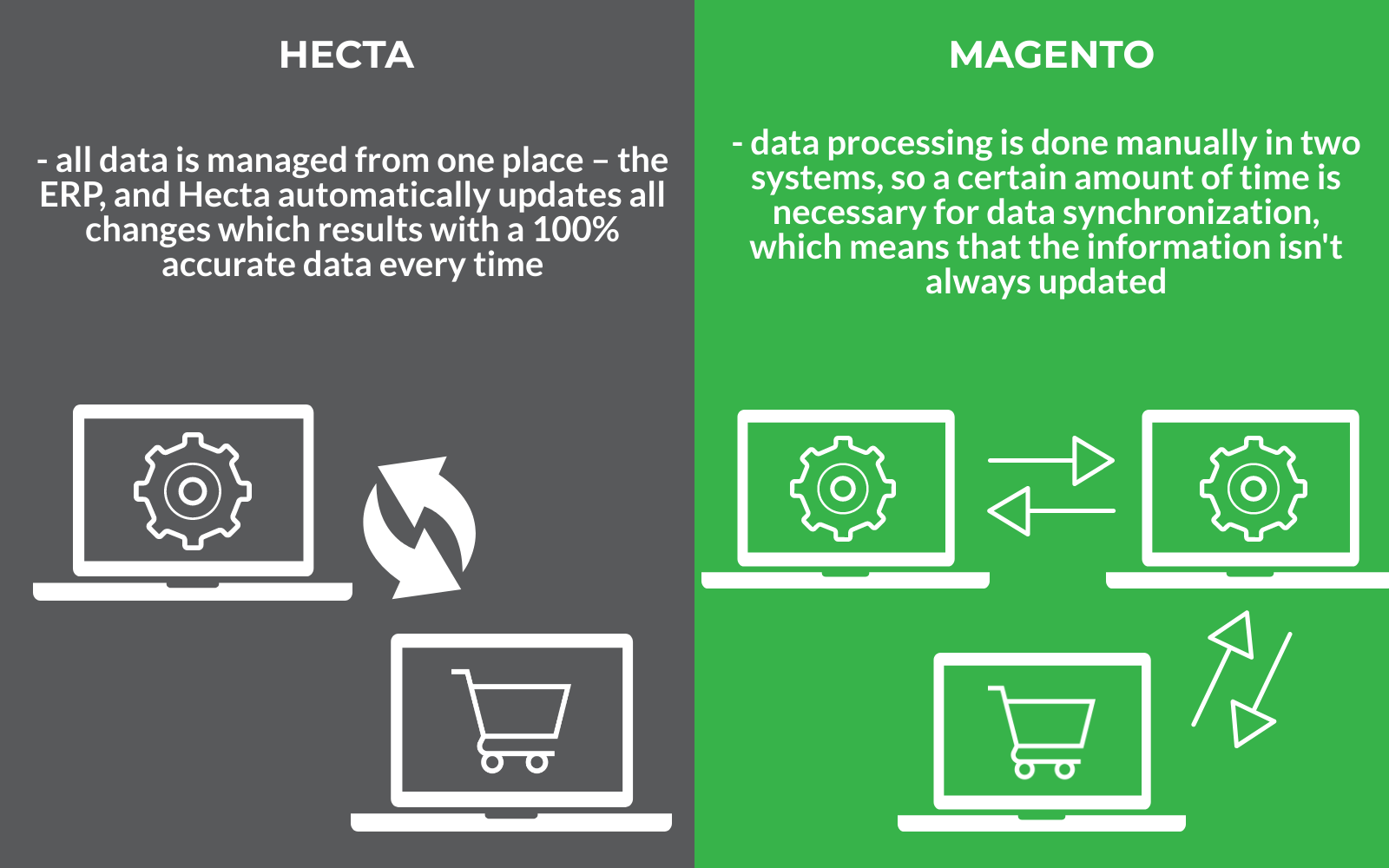 Magento: a non-integrated eCommerce solution
Magento as an eCommerce solution that doesn't enable integrating with an ERP. Just like most other eCommerce platforms, it is designed as an individual system that demands an additional program connector in order to draw data from the ERP system into the web shop.
Program connectors are individual systems which suppliers of eCommerce solutions, like Magenta, don't create themselves. That means that a third party needs to be included in the whole process of connecting the web shop and an ERP system. Dynamics NAV Connect is one of the most common solutions used in that case.
Additional program connectors bring new costs, affect the security of a web shop and if necessary, any type of update, and can have a negative effect on other systems.
The problem of adjusting data in Magento
An additional problem with non-integrated eCommerce solutions like Magento is that changes made in the ERP aren't immediately visible in the web shop. In fact, program connectors need a certain amount of time to draw information on the change, which is why the data in the ERP and the web shop stay uncoordinated for a certain period of time.
Such incoordination causes displaying information on available products that aren't updated. One of the most common problems that occur is that the buyers order a product that is displayed as available in the web shop, while it is clearly obvious from the ERP that it isn't in stock.
Program connectors also mean that a client has to manage two data bases, the one located in the ERP system and the other one which is in the connector. Managing the same data in two separate systems simply isn't efficient and it creates more room for errors.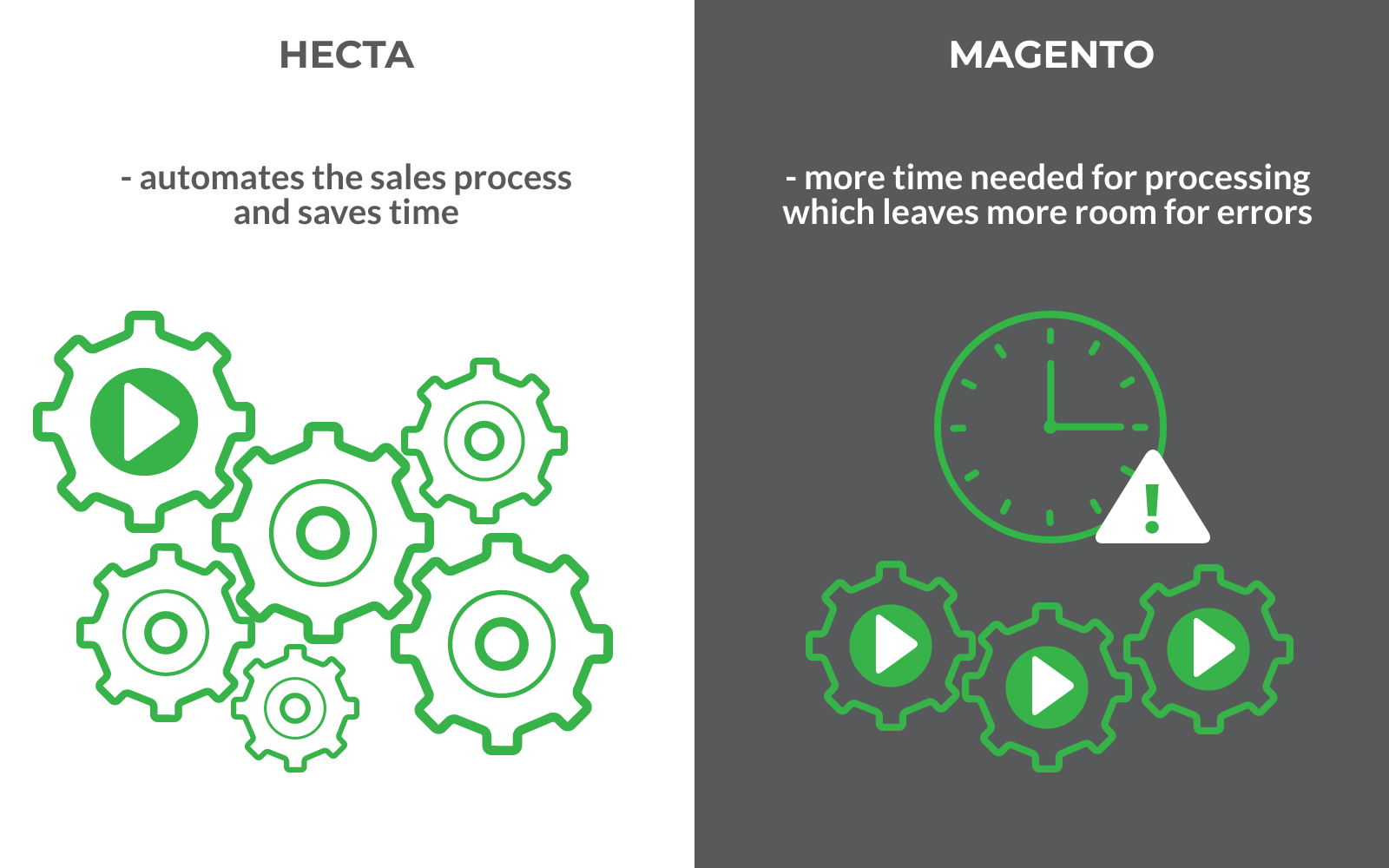 B2B web shop: the difference between Hecta and Magento
As an eCommerce platform, Magento hasn't been focused on the B2B market since the beginning. It launched its first eCommerce solution only three years ago, but hasn't offered many B2B options. The largest part of what is available to their B2B clients was actually developed by Magento technical partners. Their eCommerce software and services have been subsequently integrated in the Magento solution to suit the business needs of B2B users.
So, in a B2B segment, Magento mostly relies on its partners' solutions. In effect, it means that if, for example, you want to change one of Magento's partners, you are risking losing all adjustments made by the previous partner. That can cost you time and money.
On the other hand, Hecta system is specialized precisely for the B2B market. Namely, B2B products are often far more complex than the ones in a B2C web shop and are ordered in large quantities. Also, B2B buyers are used to special business conditions with their suppliers.
Exactly because of the complexity of B2B online sales, Hecta is designed as an integrated B2B eCommerce solution that makes this whole process much simpler. On one hand, it makes doing business easier for B2B clients, while at the same time providing their buyers a unique buying experience in a B2B web shop.
Are you ready for the digitalization of sales after learning the benefits of integrating B2B eCommerce with an ERP system? If you also want to offer your products via B2B eCommerce, contact us for more information and learn everything on the latest solution that can help you.