B2B web shop as a self-service portal
B2B sales has always been complex. From detailed technical descriptions, product characteristics and complex pricing policies to defining individual business terms with each client individually. It was a real challenge to provide clients with eCommerce solutions as self-service portals while having completely supervised their whole purchasing process. This was said in past tense for a good reason.
In fact, with the appropriate eCommerce solution and a smart approach to integrating such a system into doing business, you have the opportunity to provide clients with an extensive self-service portal which makes every step of the online shopping process simple and clear. How to increase B2B clients' satisfaction with help from the B2B web shop as a self-service portal? And how to do it without compromising the quality of the service provided? Keep reading for answers.
Današnji online kupci imaju prilično nepredvidiva očekivanja. No, jedna stvar je ostala nepromijenjena; očekuju da im B2B web shop uvijek omogući što bolje korisničko iskustvo online kupnje.
Bez obzira znači li to kvalitetniju korisničku podršku, jednostavniju navigaciju eCommercom, više informacija o proizvodima ili brže performanse, B2B eCommerce kupci stalno "podižu ljestvicu" očekivanja te postavljaju nove definicije kvalitetnog B2B web shopa.
Integrirani B2B eCommerce sustav može vam značajno pomoći da odgovorite na ove izazove i stvorite jedinstveno iskustvo online kupnje koristeći podatke o klijentima koje već imate.
Step 1: Finding the adequate product
Although it sounds simple, this can be a real challenge for B2B companies that have big catalogues of products or complex products. For example, if a B2B customer is searching for parts for a certain machine, even the slightest difference in size can mean that the part just won't fit.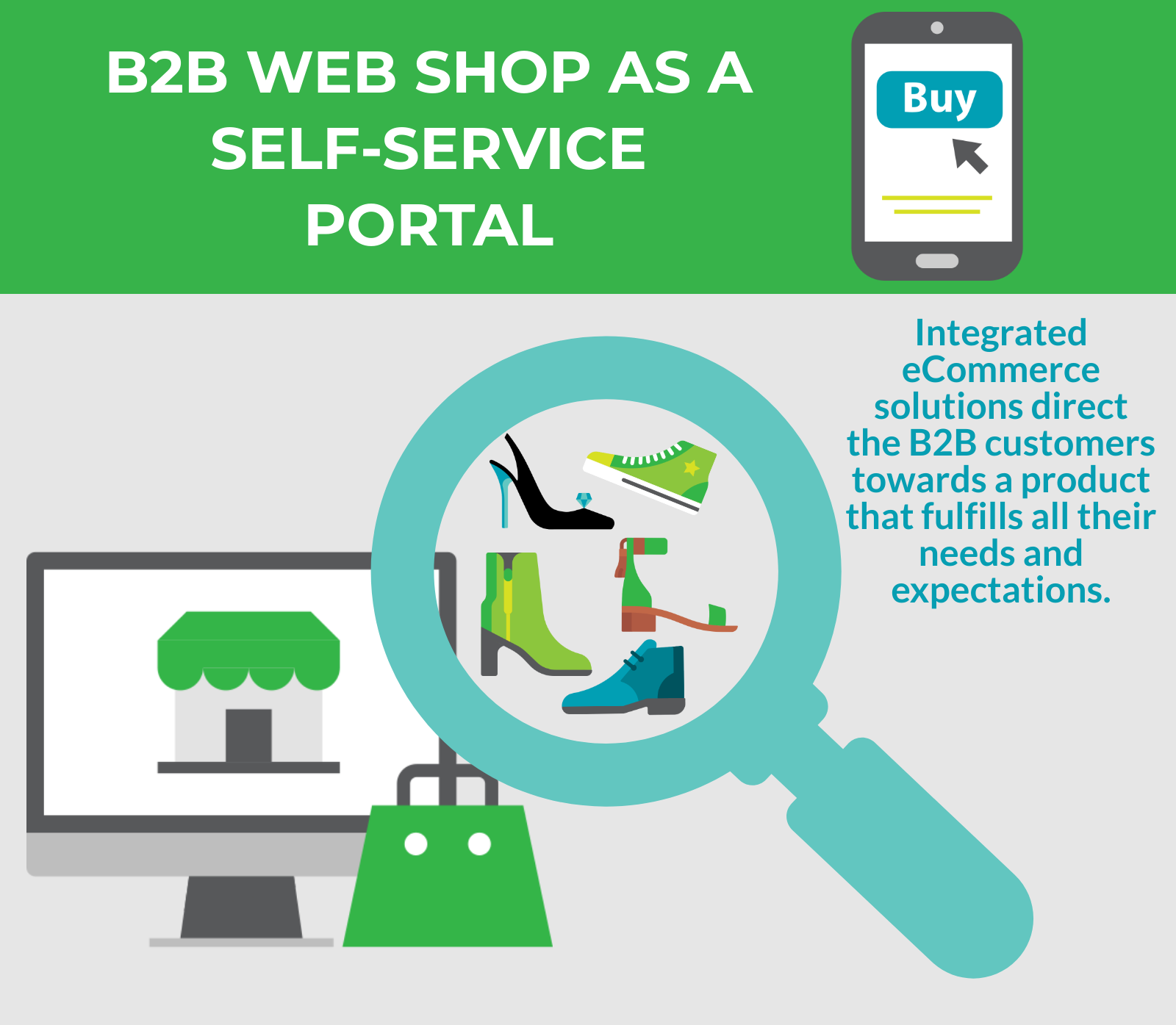 How to easily ensure up-to-date information for B2B clients in the B2B web shop? By managing data from one place. The integrated eCommerce system is run directly from the Microsoft Dynamics NAV which makes it very easy to input and change any information about products. So you get a 100% accurate data in even two business systems with this much simpler implementation.
These eCommerce solutions save time for B2B clients because they can use available search filters already defined inside the Microsoft Dynamics NAV to find wanted products. According to clients' wishes, the search can be additionally expanded with the help of external sources.
This way, the B2B client is oriented towards a product that meets his/her requirements and expectations.
Step 2: creating an order without the sales team
Once they have found wanted products, B2B clients want to place their order quickly and simply. Sometimes this is easier said than done in a B2B web shop.
The key element to ordering in the B2B eCommerce by yourself is an insight into real time stock on hand. Completely integrated eCommerce solutions enable exactly that which makes it impossible for clients to order a product that is currently unavailable.
The integrated B2B web shop also guarantees that the client will create an order according to agreed terms like the agreed order minimum or maximum. Besides that, systems like these also display other specific terms, such as modified price lists or special discounts.
The B2B web shop that displays this data accurately and promptly is the only one that can become a self-service portal for B2B clients which can create accurate orders in just a few steps without the help from a representative of the sales team.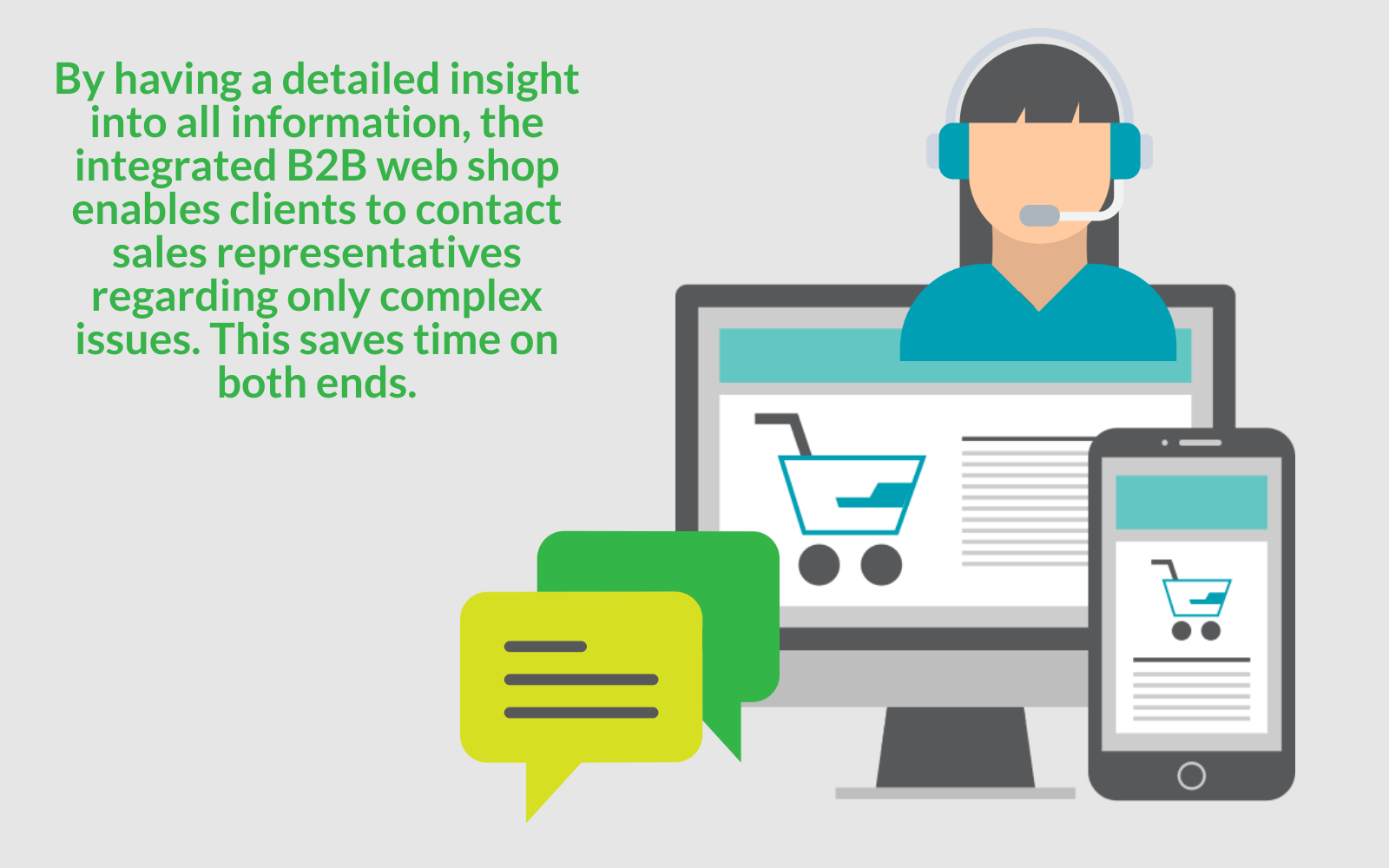 Step 3: Online payment
One of the ways to turn a B2B web shop into a self-service portal is to offer clients a detailed insight and the possibility of paying bills online. This even relates to orders which have been created via other sales channels such as telephone or fax.
You can even take it one step further and offer additional privileges like an insight into balance. The integrated B2B systems enable such privileges to customers thanks to a flawless integration and direct interaction with the ERP system.
Step 4: Defining the answers to frequently asked questions
How much time do your employees or co-workers spend each week answering clients' questions? Using the B2B eCommerce system as a self-service portal for B2B clients decreases that time significantly.
And what if a client has a question on e.g. what product to order? Instead of redirecting an inquiry about technical specifications and availability of products to the sales department, B2B clients can visit the web shop and search for this information themselves.
The integrated B2B web shop quickly and efficiently deals with issues and questions regarding the order status. These eCommerce solutions provide a detailed insight into real time information related to clients' orders including the expected delivery time. Information on previous online and offline orders are also available.
With this detailed insight, the B2B web shop actually enables clients to contact sales representatives only regarding complex issues. This results in saving time on both ends.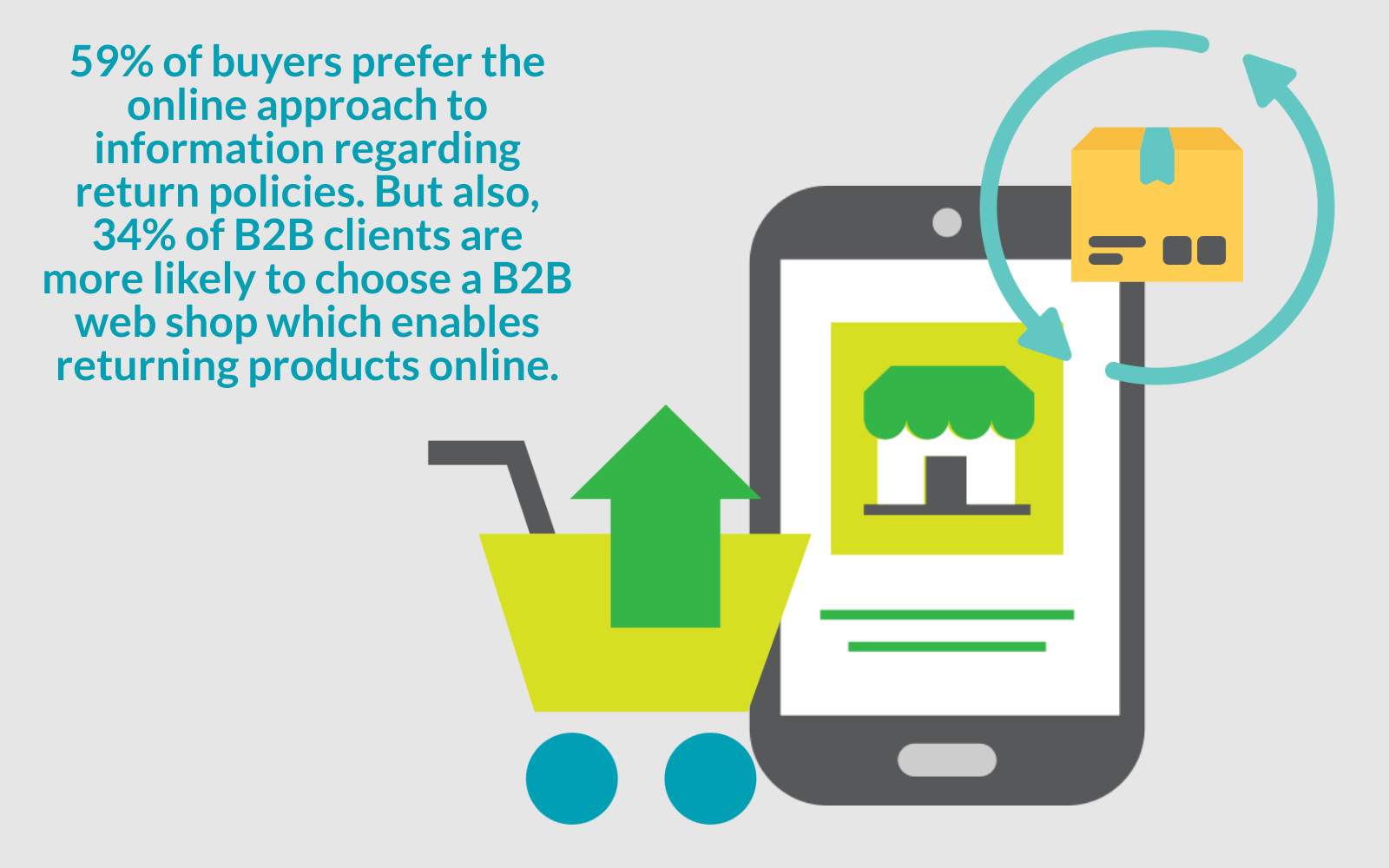 Step 5: managing returns through a B2B web shop
Almost 50% of mistakes that cause products to be returned in online orders, affect the profitability and sales of a B2B company. One the major culprits to blame for these mistakes is the human factor and there is no room for it in the integrated B2B eCommerce.
With an insight into real time information on the stock on hand, these eCommerce solutions enable crating new orders from previous ones. That way, customers can repeat a previous order that they have been satisfied with, with only a few clicks.
Even if there is a mistake in the order, you can significantly decrease its effect on clients' satisfaction by using a B2B web shop. These systems offer returns, which is a much faster and simpler option.
Research has shown that even 59% of customers prefer an online approach to information regarding returns. But also, 34% of B2B clients are more likely to choose a B2B web shop that provides online returns.
By using the same sales channel for creating orders and returning purchased goods, you are significantly saving time for B2B clients. This way you are getting the best out of a situation that clients would otherwise perceive as pretty complicated and often as a negative user experience.
Hence the integrated B2B web shop as a user-friendly self-service platform that enables more than just creating orders online is a safe way of creating an excellent user experience. These eCommerce solutions motivate B2B clients to cooperate with You as a reliable partner according to terms which they have defined themselves.
You are looking for an eCommerce platform to help you with that? Contact us today so we could present you with the best possible solutions for happy online customers and a successful B2B web shop.