Here is why your online buyers need the integrated B2B web shop
Today's online buyers have rather unpredictable expectations. But one thing hasn't changed; they expect the B2B web shop to always provide the best user experience possible. Whether it refers to a more quality user support, simpler eCommerce navigation, more information about products or better performance, B2B eCommerce buyers are constantly "raising the bar" of expectations and setting new definitions for a quality B2B web shop.
The Integrated B2B eCommerce system can significantly help you tackle new challenges and create a unique online shopping experience by using existing data about the clients you already have.
eCommerce goals and strategies, and Integrated B2B web shop solutions synchronisation
By using the integrated B2B eCommerce, which is based on an ERP system such as Micrsoft Dynamics NAV, all data and business logic that are found inside the ERP system become a powerful tool for creating an excellent online shopping experience.
In fact, by placing the ERP system at the centre of the eCommerce strategy you are creating all prerequisites for a successful B2B eCommerce where there is no room for guessing which problems your clients have issues with.
This means that with the integrated B2B web shop there is no more need for having a "trial and error" system based approach in order to provide a more quality eCommerce offer and to improve their user experience.
And that is exactly what your B2B buyers want – for you to recognize their expectations and needs and to ensure a personalized shopping experience. Accordingly, they are even willing to pay more for it.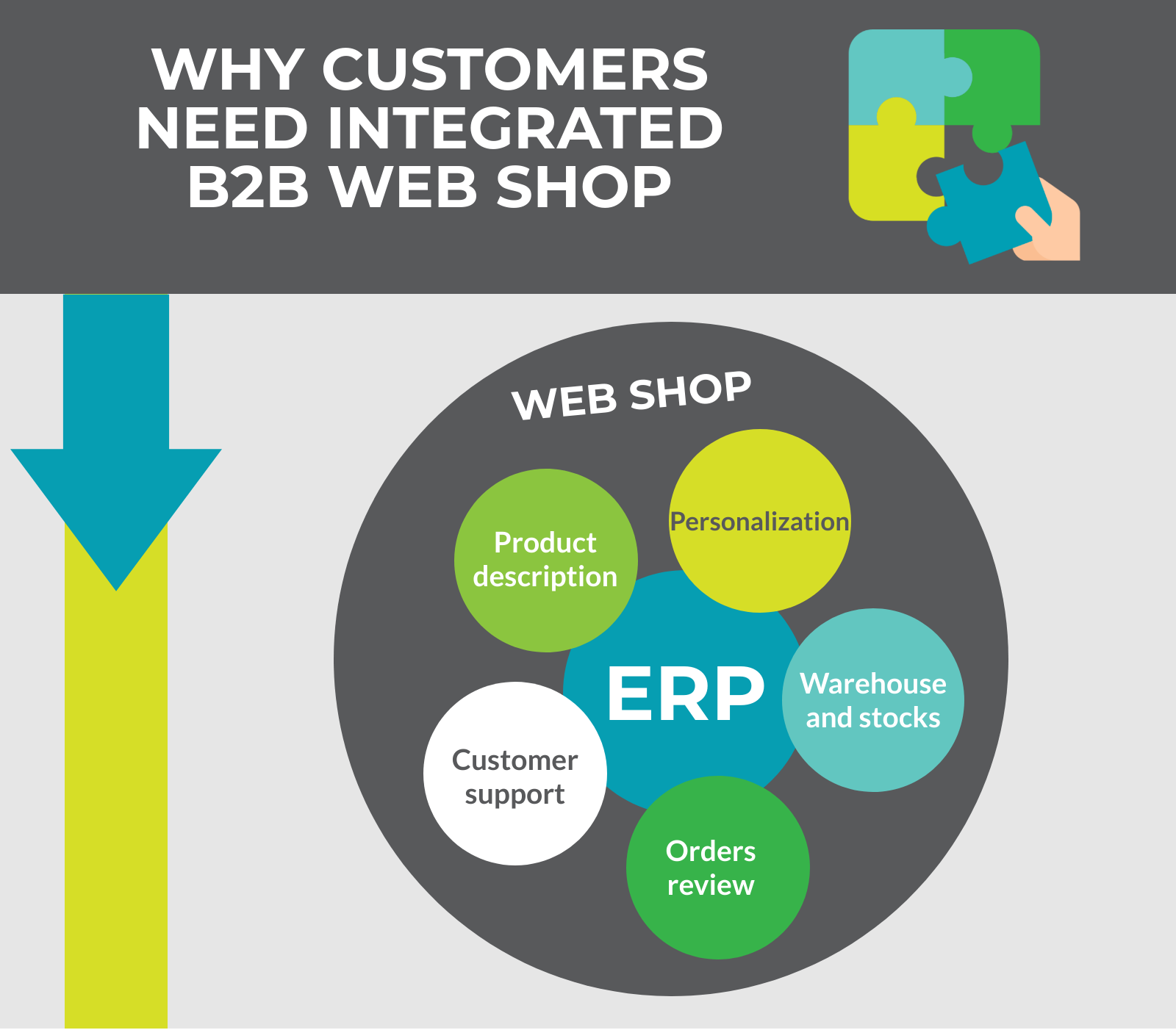 For example, one of the biggest advantages of the integrated B2B eCommerce system is that it enables buyers to create orders based on data from the inventory directly. What does that mean? Let's say you are a distributor or a manufacturer and buyers resell your products.
If you also offer them quick delivery with your products, they no longer have the need to "pile" inventory to be certain that they will have wanted products at any given time.
Additionally, it is not possible for the buyer to make a new order accidentally in the integrated eCommerce, at a point when there are already existing orders that haven't yet been delivered, because the buyer has an overview of all orders, including bids, finished and unfinished orders. Therefore, it is a completely personalised service at a new level.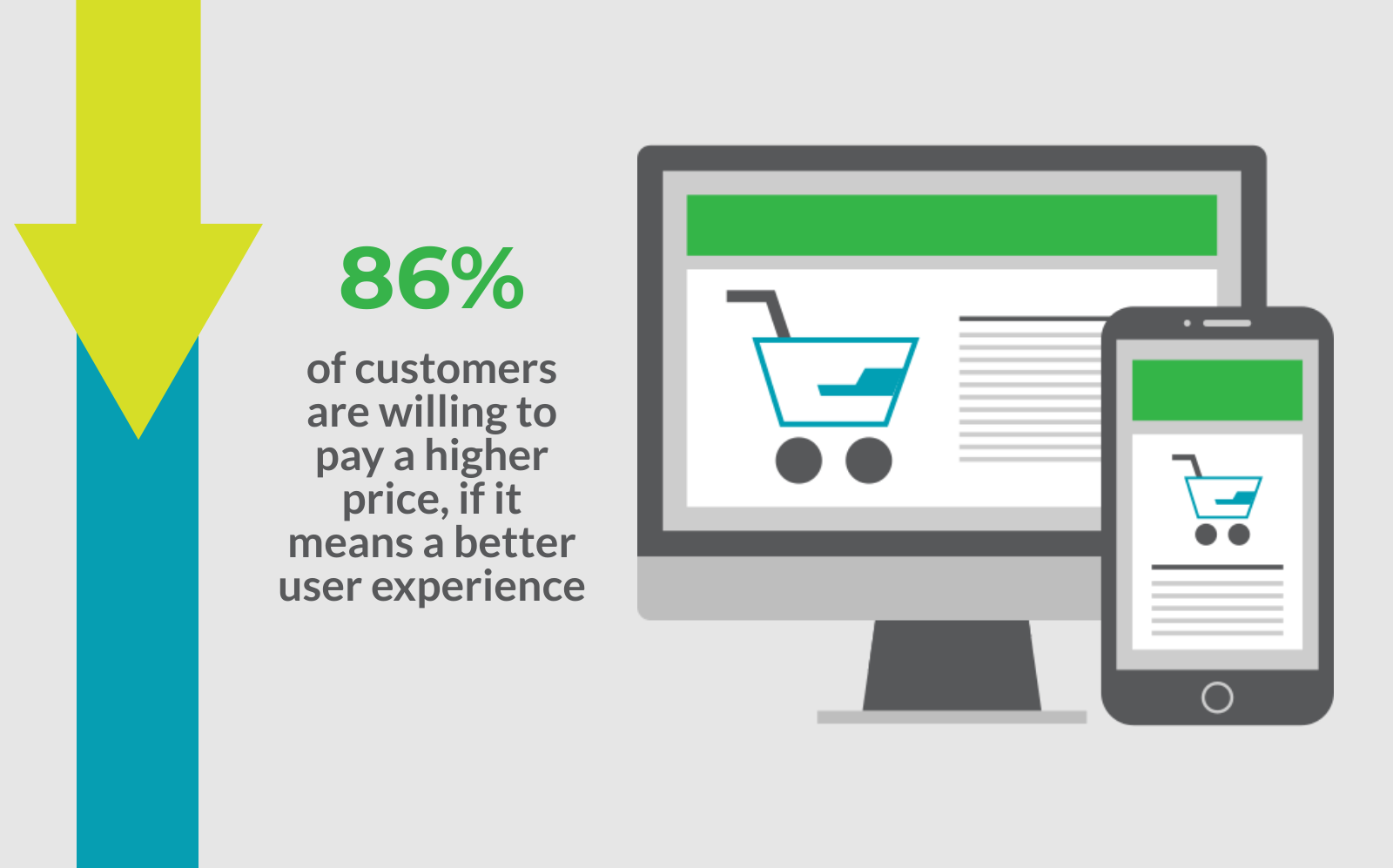 With the ERP integration it is easier to recognize the needs of online buyers
B2B eCommerce buyers aren't just hoping for a positive online shopping experience, they are very clearly demanding it. But it is important to point out that complying to such demands creates much more benefits than just having a network of satisfied customers. Here is why;
86% of buyers are willing to pay a higher price if it implies a better user experience
73% of buyers claim that a positive user experience is the reason they decided to make a purchase
But what is it exactly that makes a positive online shopping experience and a good B2B web shop? Here's what B2B eCommerce clients specified themselves as answers to this question;
Easy searching of wanted products in the catalogues
Sufficient information about a product which makes the decision to buy much easier
A simple process of adding products into the cart and various payment methods
Clear and legible delivery terms and real time notifications about the order status
The integrated B2B eCommerce simply and efficiently deals with all these user demands and with less costs and without increasing the sales team.
Besides, systems like these monitor B2B buyers' conduct and offer alternative products if wanted ones aren't available. Thus, the integrated B2B eCommerce significantly helps in taking advantage of cross-selling and up-selling possibilities in online commerce. Clients also have the possibility of using live chat and adding comments to their orders, which significantly helps in recognizing buyers' needs. All these advantages contribute to product and offer developement and improve pricing strategies.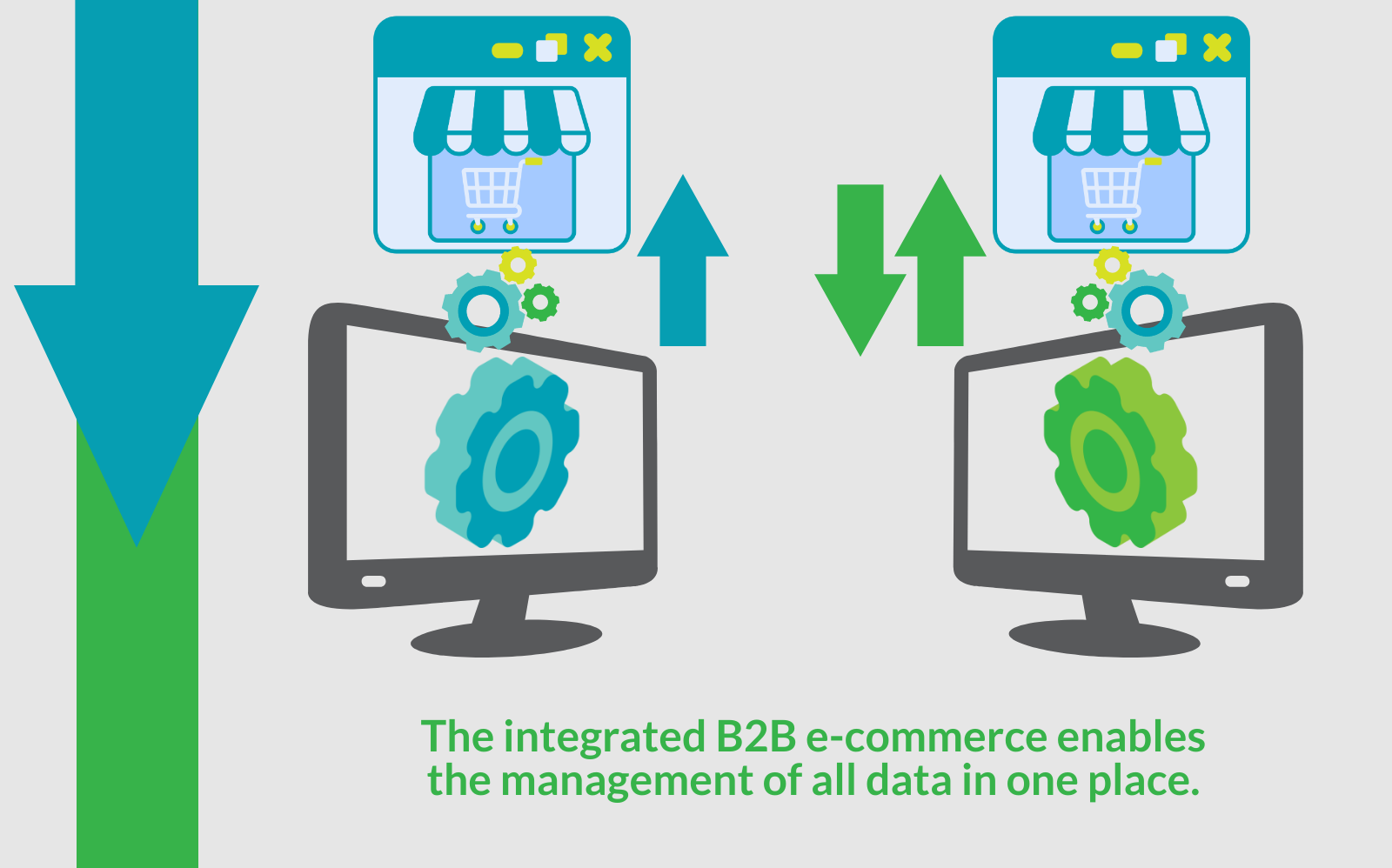 A comparison between the integrated B2B eCommerce and alternative solutions
Integrated B2B eCommerce systems are often compared to eCommerce interface as their alternative. Although these systems enable simple adjusting of the user experience on one hand, they also mean a much more complex implementation and maintenance on the other. Why is that?
Unlike the integrated B2B eCommerce system, interface systems have their own business logic which needs to be aligned with the ERP. What does that mean? Transferring and copying data from the ERP, data synchronization, managing orders through several software systems, i.e. more room for error in information about available inventory and product prices.
As the integrated eCommerce system is run directly from the MD NAV, you can very easily input and change any information about products all in one place. So with a much simpler implementation you get a 100% accurate data in even two business systems and your clients get a unique experience of ordering via eCommerce.
Get your Ecommerce approach to a new level
You are ready for the digitalisation of your commerce after you have learned what the B2B web shop provides? If you want to offer your products via B2B eCommerce, contact us for more information and find out everything about the most modern software solutions that will help you.