Top 5 Advices on How to Conduct a Successful Conversion Rate Optimization
Conversion rate optimization (CRO) means decreasing the rate of leaving a web page. How to achieve that and where to start? Among millions of available search results that Google gives on this subject, how to choose the ones that have the most effect? So, here are five different advices to help you decrease the rate of leaving a web page.
First of all, we need to clarify why is it important to focus on the CRO? The more web page visitors you turn into potential buyers i.e. leads and subsequently into actual buyers, the bigger your income will be. This of course sounds fairly simple. But sometimes, even the subtlest difference in the approach to creating the CRO strategy can be a key factor in having a successful result or maybe costing you more than its actual worth.
Conversion rate optimization is one of the main issues in digital marketing today. Almost 70% of salespeople highlight it as one of the main priorities. Therefore, in order to explain the right way of successfully conducting the CRO on a web page, in PPC marketing, e-mail campaigns and all other activities, we have to primarily define the biggest CRO challenges and mistakes. Here's what research has on this topic:
75% of salespeople is very concerned with the optimization of the user experience of their buyers
Less than 25% of companies is satisfied with the current Conversion rate optimization
One of the biggest challenges is the lack of quality and clearly defined conversion rate optimization process
Thus, although the CRO is one of the priorities, it's obvious that this process isn't being managed well. Results of these strategies often don't meet expectations and their conduction requires solid and lasting processes. How to change that? By following these advice: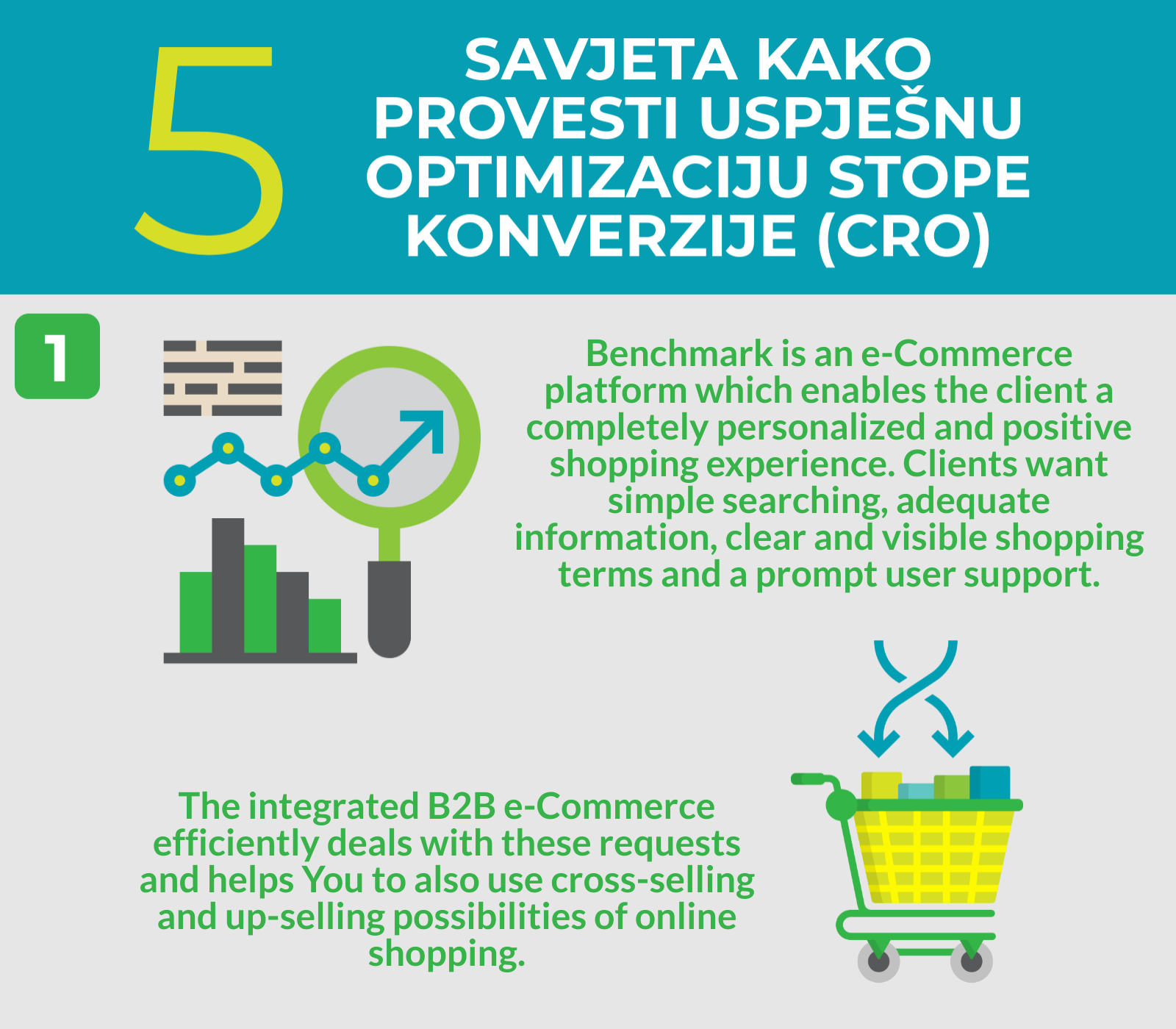 CRO advice #1 – Most often, disregard parallel assessment
Conversion rate optimization has one simple rule here. The benchmark or quality standard depends on a lot of criteria; type of industry, size of the company, type of business, whether you are creating the CRO for a web page or an e-mail campaign etc. So, focus on the optimization from your company's point of view. That way you will avoid wasting time and energy on achieving standards that are too high.
For example, when regarding a B2B web shop, the benchmark is an eCommerce platform that provides the client with a completely personalized and positive shopping experience. B2B buyers want to simply find searched items in the catalogues and sufficient amount of information, which makes the decision to buy that much easier. They want clear and understandable delivery terms, real time notifications on the order status, prompt information on the delivery time and a prompt user service.
The integrated B2B eCommerce simply and efficiently deals with all user requests. These systems also track the behavior of B2B buyers and offer them alternative products if wanted items aren't available. Thus, the integrated B2B eCommerce significantly helps to use the cross-selling and up-selling possibilities in online sales. Not only that, clients also have the possibility of chatting live and adding comments with their orders, which considerably helps in recognizing buyers' needs.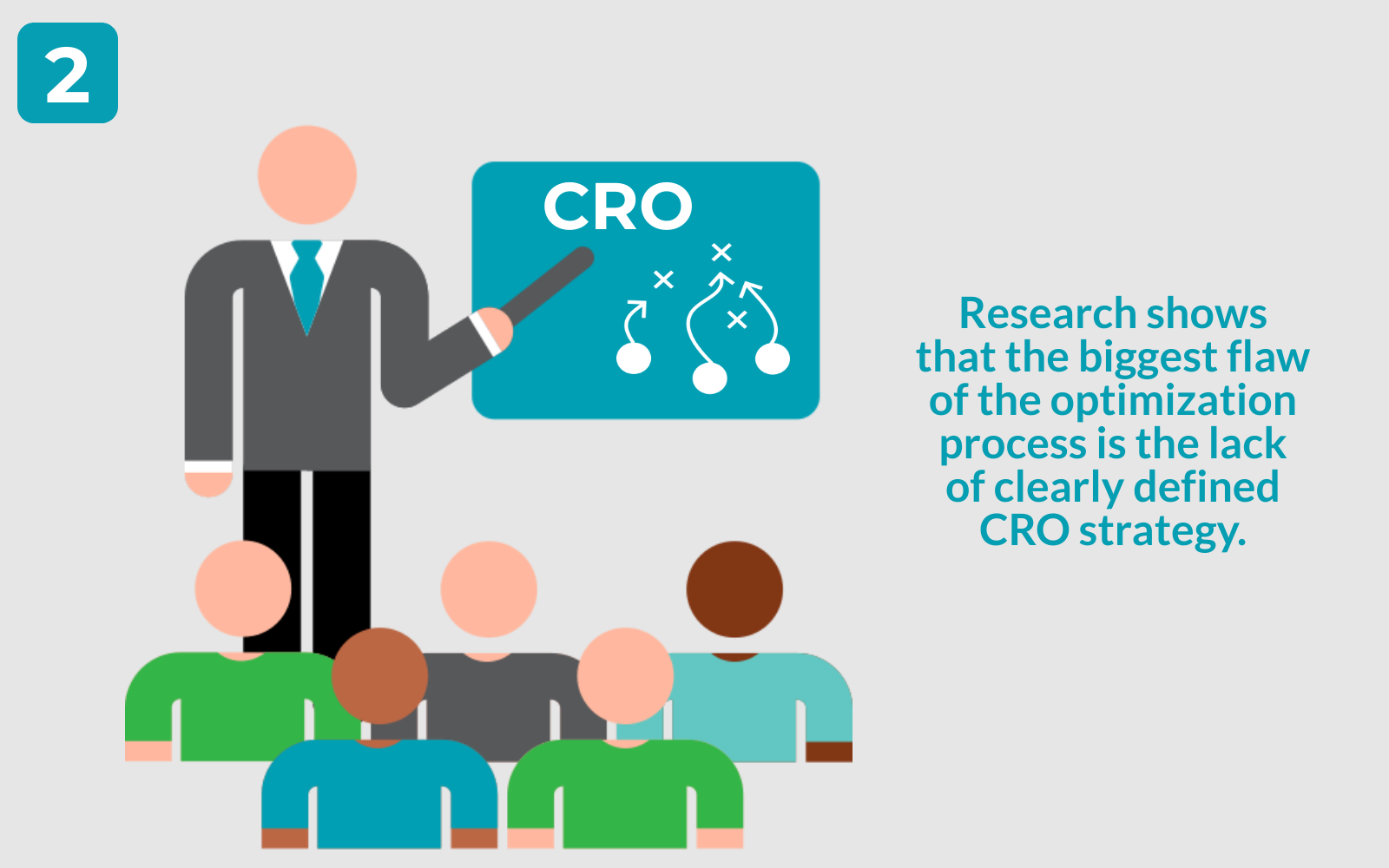 CRO advice #2 – Align your team with the CRO process
As mentioned before, conversion rate optimization presents a great challenge for companies. Research conducted in the past year has shown that the lack of a clearly defined CRO strategy is considered to be one of the biggest disadvantages.  Hence, don't approach the conversion rate optimization "blindly". Create a plan and a strategy that you can adjust and upgrade accordingly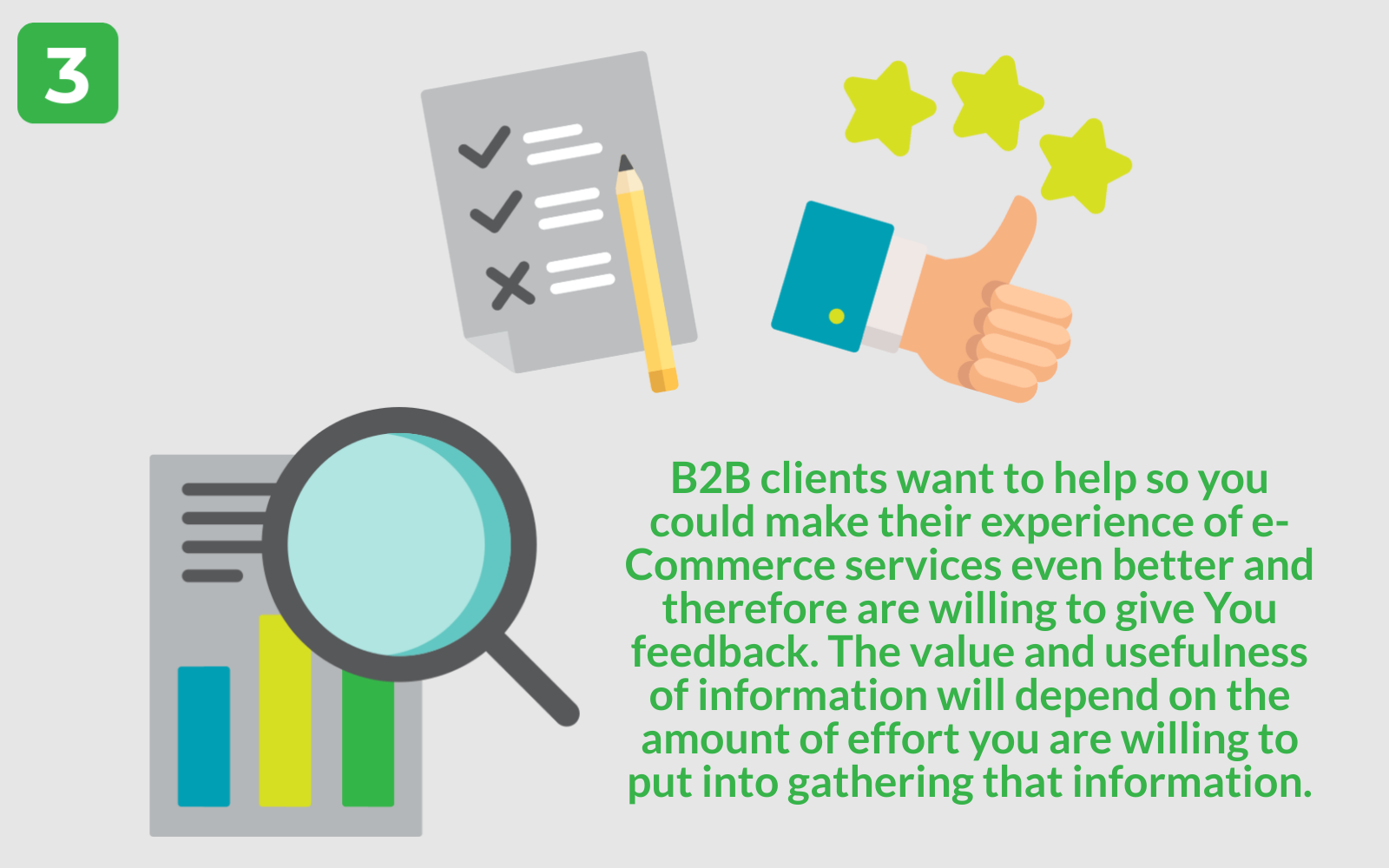 CRO advice #3 – Personalize and adjust the approach
Be specific when creating content for clients and buyers. What dose that mean? It's not enough to just consider whether you are addressing new web page visitors or those that have visited it previously. Their behavior patterns, industries from which they are coming, workplace and function, what phase of lead marketing funnel they are currently at or at what particular time they are starting their user experience; are all important things to be taken into consideration.
Regarding eCommerce in wholesale, a B2B web shop often entails a much closer relationship with buyers than a B2B ecommerce. The owners of B2B web shops contact their clients more often, know their names, addresses and phone numbers. They may even know much more personal information such as dates of birth, personal interests or their children's names.
This also means that B2B clients are more willing to give feedback on services provided by the B2B ecommerce. In fact, B2b buyers want to help you so you could make their ecommerce experience even better. The more time and effort you put into gathering information on your buyers, the more valuable and useful the feedback will be.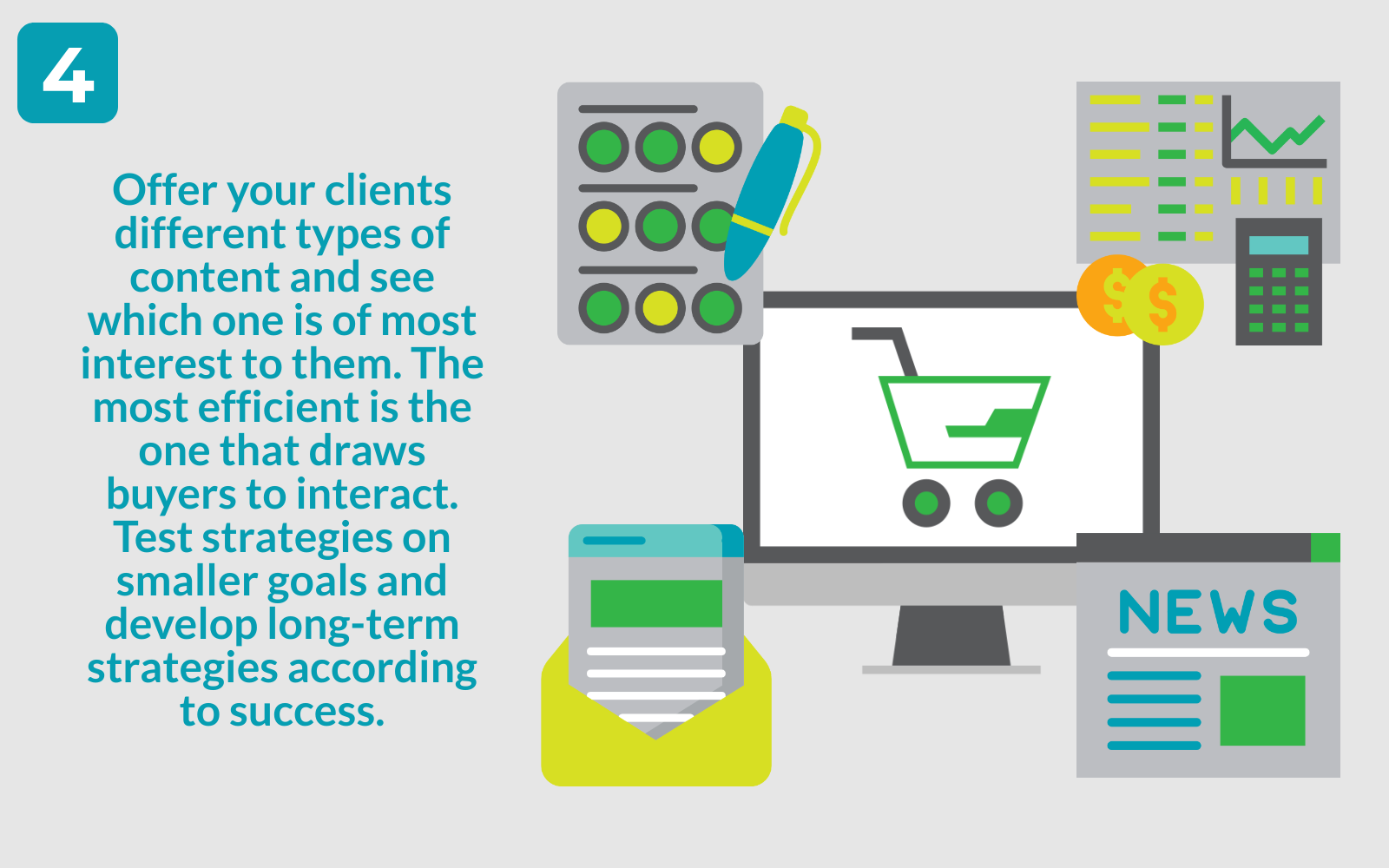 CRO advice #4 – Focus on smaller goals that give results
Spending time and resources on a big number of CRO activities whose success is questionable really doesn't make sense. In order to efficiently use your marketing team's time and the potential of the CRO budget that you have at your disposal, you should primarily focus on smaller goals. Test them and subsequently develop long-term strategies only for those activities which prove to be successful.
All buyers and clients want one thing – a web page which they can communicate with. Some clients want surveys and quizzes, others want tests, online savings calculators or newsletters, while some will be enticed by the e-literature they can download from the site.
Learn which of these features evoke the most interest, the most efficient one being the one that draws to interaction. Such interactive content is a tool for attracting potential buyers or leads. Their conversion begins the moment they consent to input and send personal information.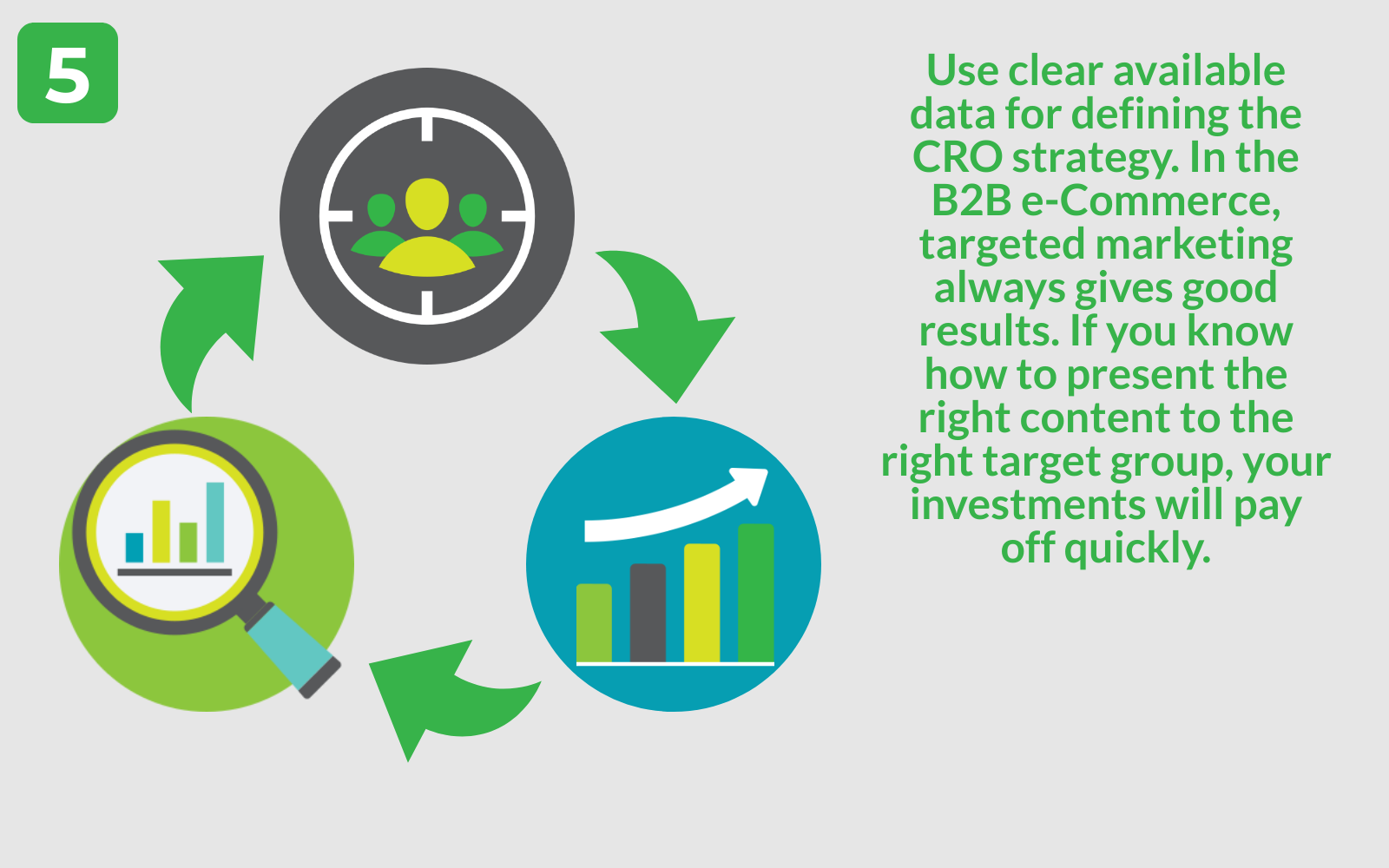 CRO advice #5 – Act and make decisions based on data
Conversion rate optimization requires defining simple goals and primarily working on them. It is necessary to additionally develop a qualitative strategy of approaching more complex CRO activities. Those that present a challenge are the ones that require more involvement.
Avoid setting goals and defining a CRO strategy based on what your team thinks could work. Instead, use clear data that is available to determine which tasks are the easiest to perform, which questions present the biggest challenges and which activities give good results.
For example, targeted marketing in the B2B eCommerce always gives good results. Data and statistics are being utilized to create interesting content that your buyers are interested in. Therefore, the key note is to understand their needs. Let your products address the client in an interesting way. One of the examples would be personalized e-mails that significantly increase sales revenue and the CTR (click-through-rate). If you are apt to accurately presenting the right content to the right target group, resources invested in marketing will quickly ensure income.
Are you ready to digitalize your sales? If you want to offer your products via the B2B ecommerce, contact us for more information and find out everything about the latest software solutions which will assist you.