Top 5 advices on how to conduct a successful conversion rate optimization (CRO)
It is never pleasant to inform a B2B client that a requested product isn't currently available, whether you are informing him/her live or through an eCommerce sales channel. Still, there is a simple way how to enable B2B buyers promptly information on the condition of the stock. The ERP system in eCommerce can become your secret weapon in providing a quick and efficient online shopping experience for B2B buyers every time, based on accurate data on wanted products.
Researches have shown that more than 85% of B2B clients consider accurate data about stock the most important information in the B2B eCommerce. The manner in which you communicate about the availability of stock is also one of the key factors that affect their user experience.
So, in order to make your B2B clients satisfied, eCommerce has to ensure two things; accurate data on the availability of products and an alternative solution when a wanted product isn't available. This week HECTA blog gives advice on how to achieve it!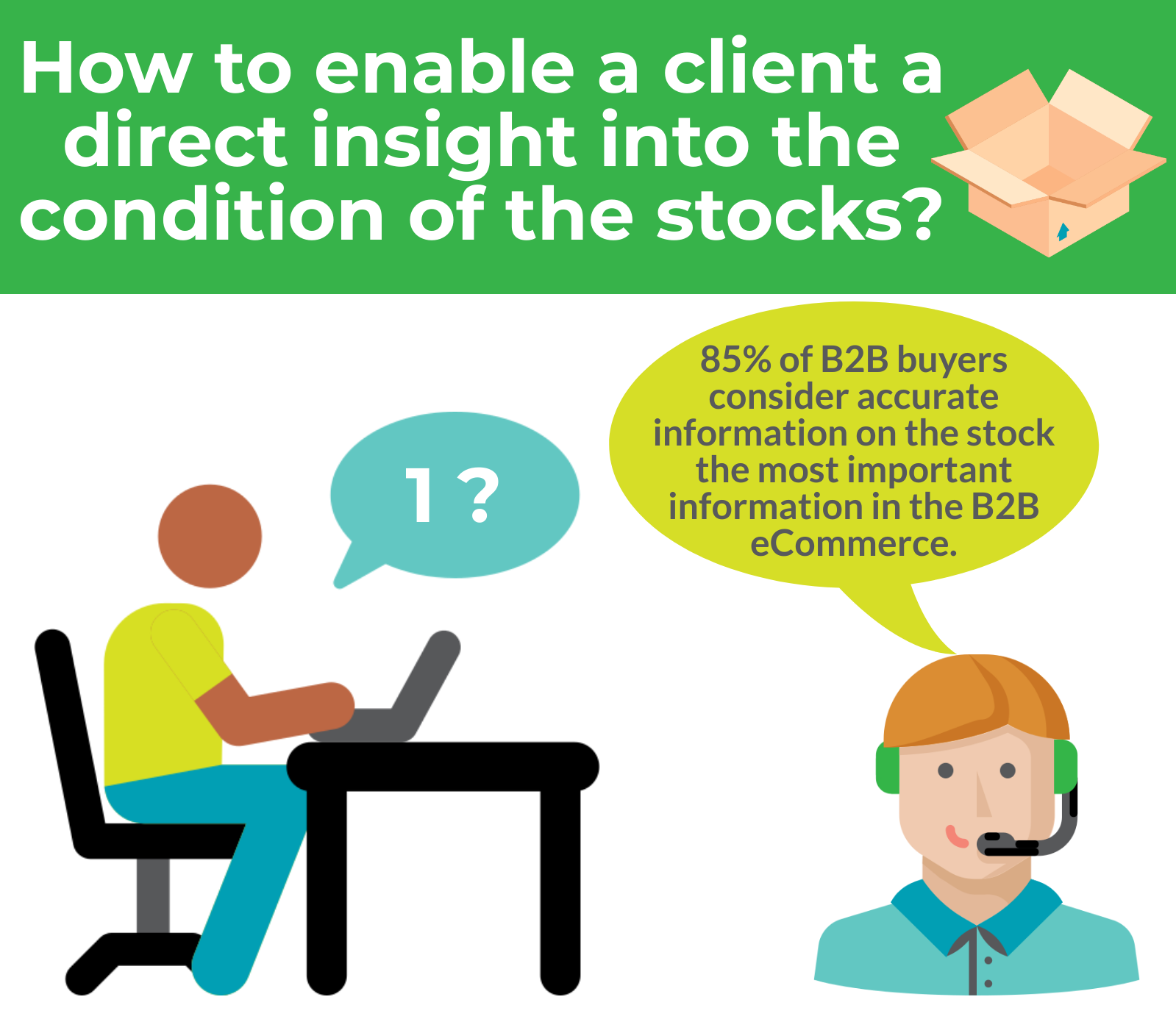 Provide B2B buyers with accurate promptly information on the condition of the stock
The first thing that will make a B2B client unhappy is the information that a product in the B2B web shop isn't currently available. But, to order a product and afterwards learn that it can't be delivered, is even worse.
These situations are fairly common and extremely frustrating for B2B buyers. Duly delivery doesn't just affect their satisfaction with the online shopping experience, but is also crucial for business.
The ERP system in eCommerce can prevent these unpleasant client experiences. How? With the help of the integrated B2B systems that enable a real-time connection between a B2B web shop and the ERP system like Microsof Dynamics NAV-a/ Microsoft Dynamics 365 Business Central . The result is prompt real-time information on the condition of the stock.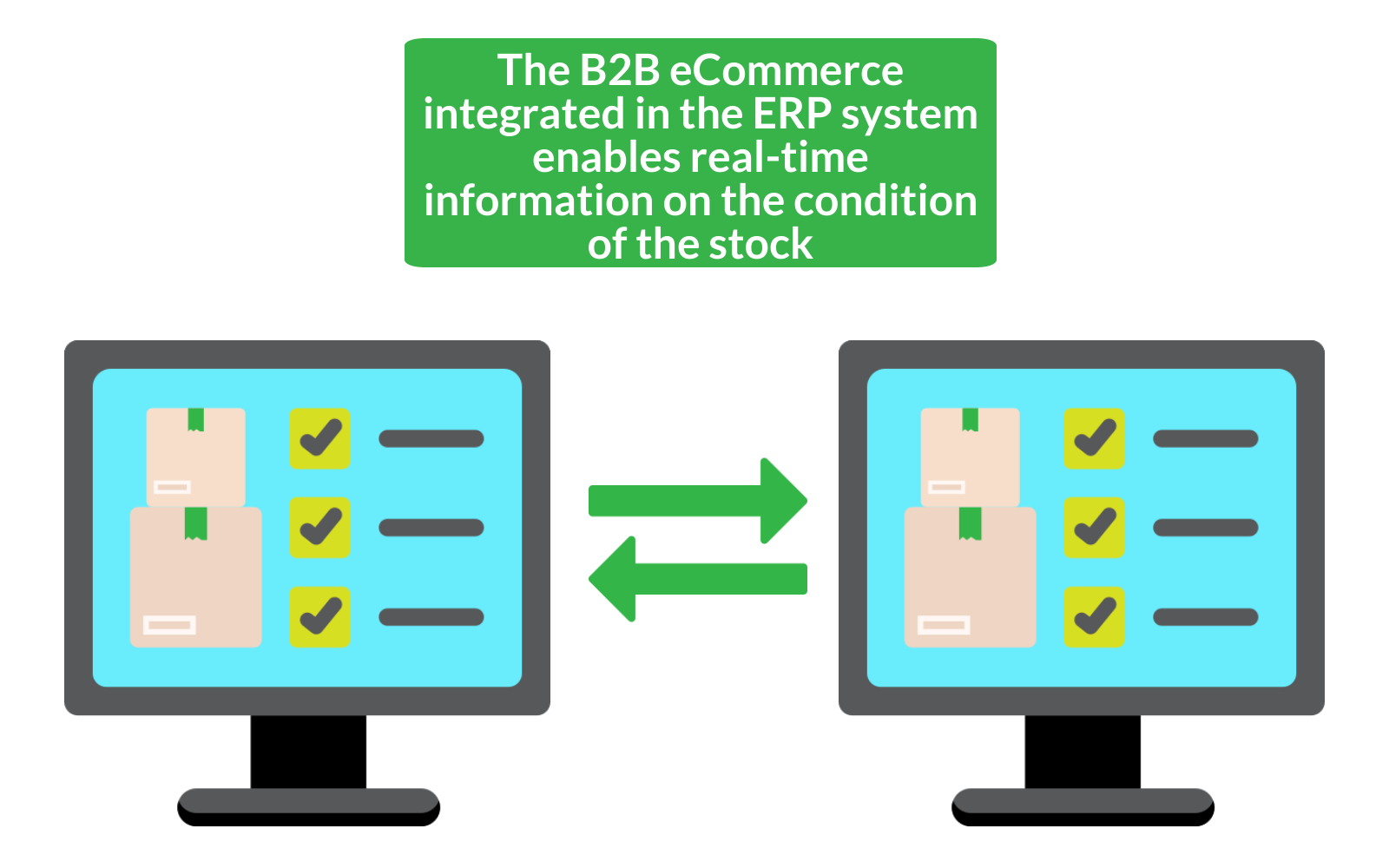 Creating eCommerce orders without any unknowns
The ERP system in eCommerce enables buyers creating orders based on direct data about the condition of the stock. That way, the integrated B2B eCommerce system removes all unknowns and unexpected costs in the eCommerce order.
Clients can create an order directly from the software system, see all information on your current stock or simply download their invoices electronically without having to input data manually.
This makes it impossible for the B2B buyer to create an order of products that aren't currently in stock because the condition of the stock in the ERP system is updated when every new online order is created.
With the help of the integrated B2B web shop, a buyer can access a detailed overview of all previous open and closed orders, at any time. So, there is no way to create a new order not knowingly, at a time when there are still orders that haven't been delivered. And you have an option of repeating a previous order in just a few clicks.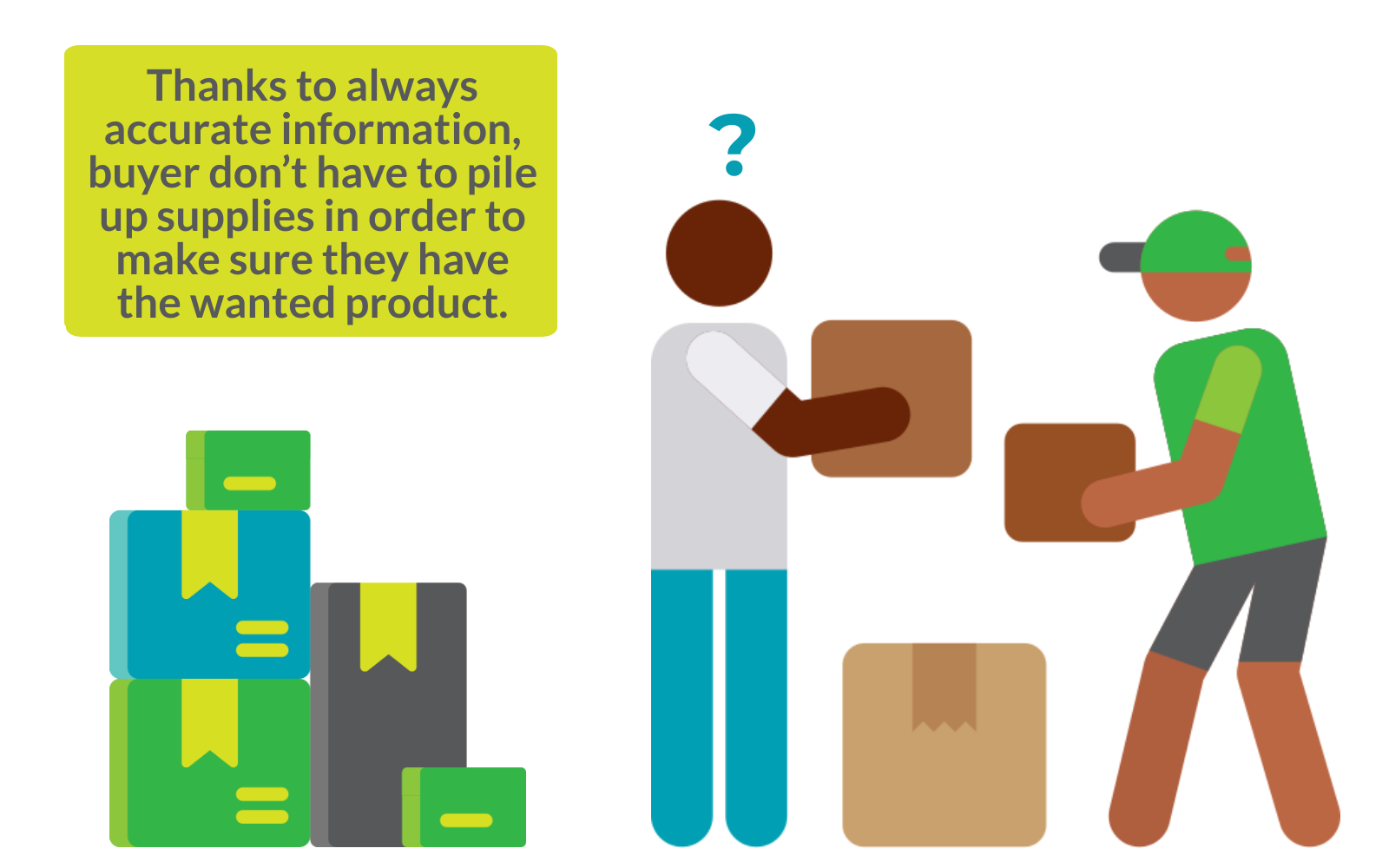 Manage all product information in one place
If you are already using an ERP system like the Microsoft Dynamics NAV, then you already have a software solution for managing stock at your disposal. The next step is to put such a system in the function of eCommerce, i.e. enable the B2B web shop to "pull" data directly from the ERP system. This leaves no room for errors and helps to avoid unnecessarily inputting data twice.
The integrated eCommerce system uses the ERP system as an engine for smooth operating and automatically notes all subsequent price and available offer changes. This way, the user gets accurate data in two business systems.
On the other hand, its end users get clear, accurate and updated information on available products, condition of the stock, sales terms and the delivery, 24/7. The integrated B2B also enables detailed information on prices, updated calculations of various tax rates, downloading catalogues and necessary documents listing for each client separately, wherever they may be.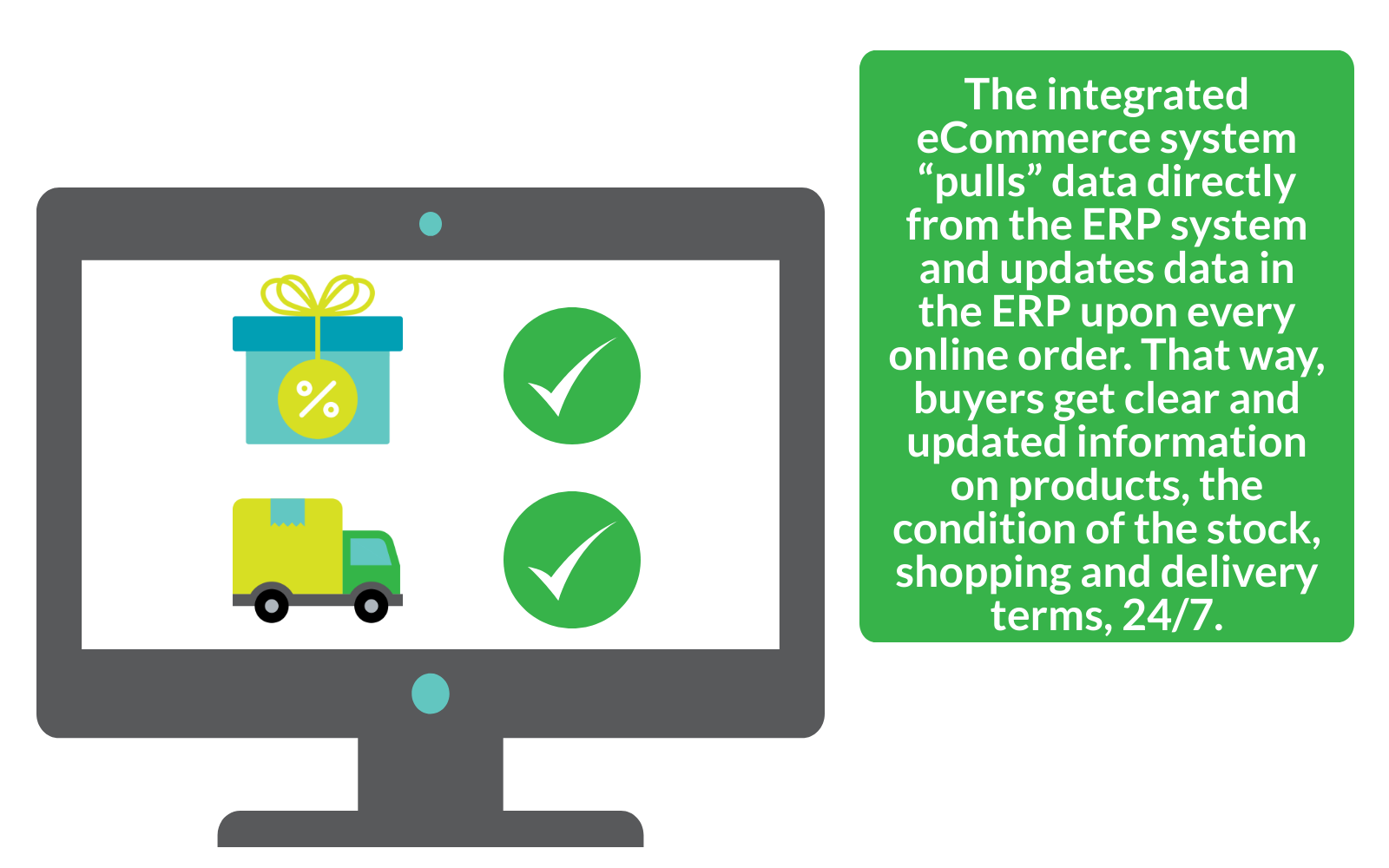 Inform buyers on when products are available
The ERP system in eCommerce can be used to elevate the user experience of your clients to a higher level. If you give them information on when a certain product will be available again, you've helped them make a right decision in a potentially tricky situation.
Automatic presentation of product availability in a B2B web shop can be very demanding. But with the help of expertise of an experienced sales team and available data, it's much easier to determine what kind of information should you share with clients and how to communicate that information.
For example, if you add a message "2 articles available" with information on the condition of the stock, the client will know that he/she needs to order quickly. If the message says "Currently out of stock", the client will know that he/she can't order the wanted product. But if the message says "Available in 5 to 7 days", the client has necessary information to make the decision to wait with the order or search for an alternative product.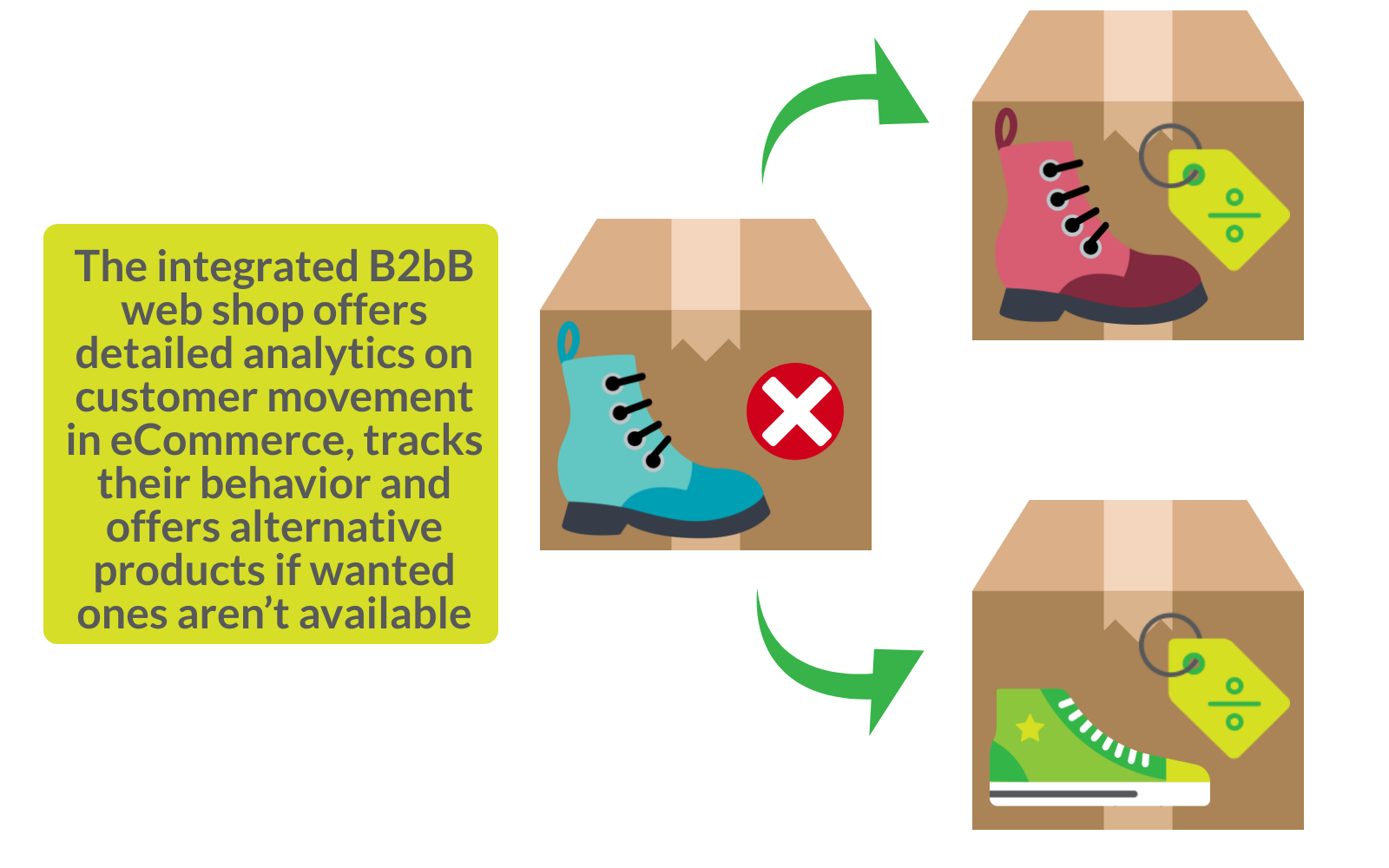 Offer alternatives for products out of stock
Let's look at a hypothetical situation when a wanted product isn't currently available and isn't accessible for the buyer at a desired time. Still, there' is no reason not to enable your B2B client what he/she needs or for the client to turn to a competitor immediately.
The integrated B2B web shop offers detailed analytics of client movement in eCommerce, tracks their behavior and offers them alternative products if the ones requested aren't available. This way, it significantly helps to use cross-selling and up-selling options in online sales and causes less buyers not to leave your B2B web shop empty handed.
Systems like these are much more than a B2B eCommerce platform that enables creating orders online. With the help of the integrated eCommerce, you are providing your clients with a user-friendly self-service system which motivates them to cooperate with you as a reliable partner.
Ready to take the eCommerce business to a new level? Contact us for more information and learn everything on the latest software solutions that will help you.