How to make buyers choose your shop in a B2B buying process
If you are doing wholesale, distribution or manufacturing, then you surely want buyers to keep ordering from you. But how can you be sure that clients will choose exactly your company in the B2B buying process? Is that something that you can actually influence?
Fortunately, the answer is yes. To understand different ways through which you can influence B2B clients' choices, first we need to explain the five phases that a B2B buying process consists of;
Identifying the problem
Searching for information
Evaluation/assessment of available alternatives
The decision to buy
The decision after buying
Research shows that the whole B2B buying process, including all five phases, lasts approximately 28.2 days. Identifying the problem takes the least amount of time, about 4.5 days, while evaluating alternative offers takes the most time for B2B clients, 6.4 days to be exact. Also, research results have shown that professional buyers never make the decision to buy by themselves. Various company departments are most often involved in this phase of the B2B process. During the last couple of years, the number of people involved in the B2B buying process has also increased. Additionally, 53% of companies claim that the buying decision phase lasts longer today than it did before.
Because of the fact that B2B buying has become more complex, we bring you advice on how to fulfil B2B clients' expectations and how to get buyers to choose exactly you as their supplier in each of the B2B buying process phases.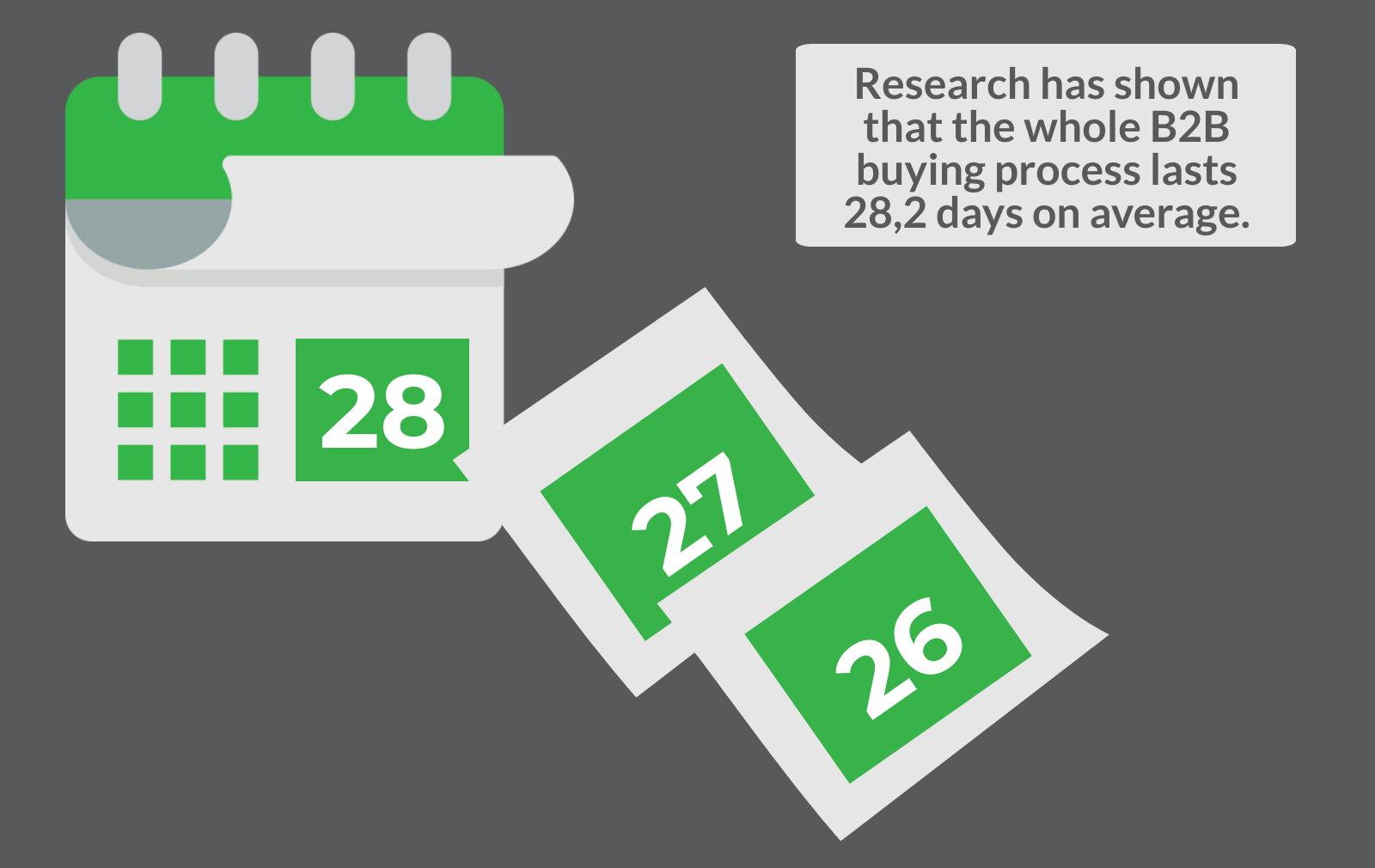 Phase 2; Searching for information
After a B2B buyer identifies the problem and starts the B2B buying process, your next step is to make sure that they will specifically find you while searching for information and solutions.
In today's time, their search begins on the internet. 62% of B2B clients want available online information on products and services, while only 27% want only offline information. This brings us to the most important advice in the second phase of B2B buying process which is – in order to fulfil B2B buyers' expectations, provide them with online information and answers to questions they might be interested in.
Which channels and information sources do B2B clients use in search of appropriate information in the second phase of B2B buying process? During online searching, they are mostly internet search engines like Google that are used by almost 5'% of them. More than 35% of buyers will search for wanted information on suppliers' web pages and in users' reviews. Research has shown that on average, B2B clients will view three to five blogs or web pages before contacting the supplier.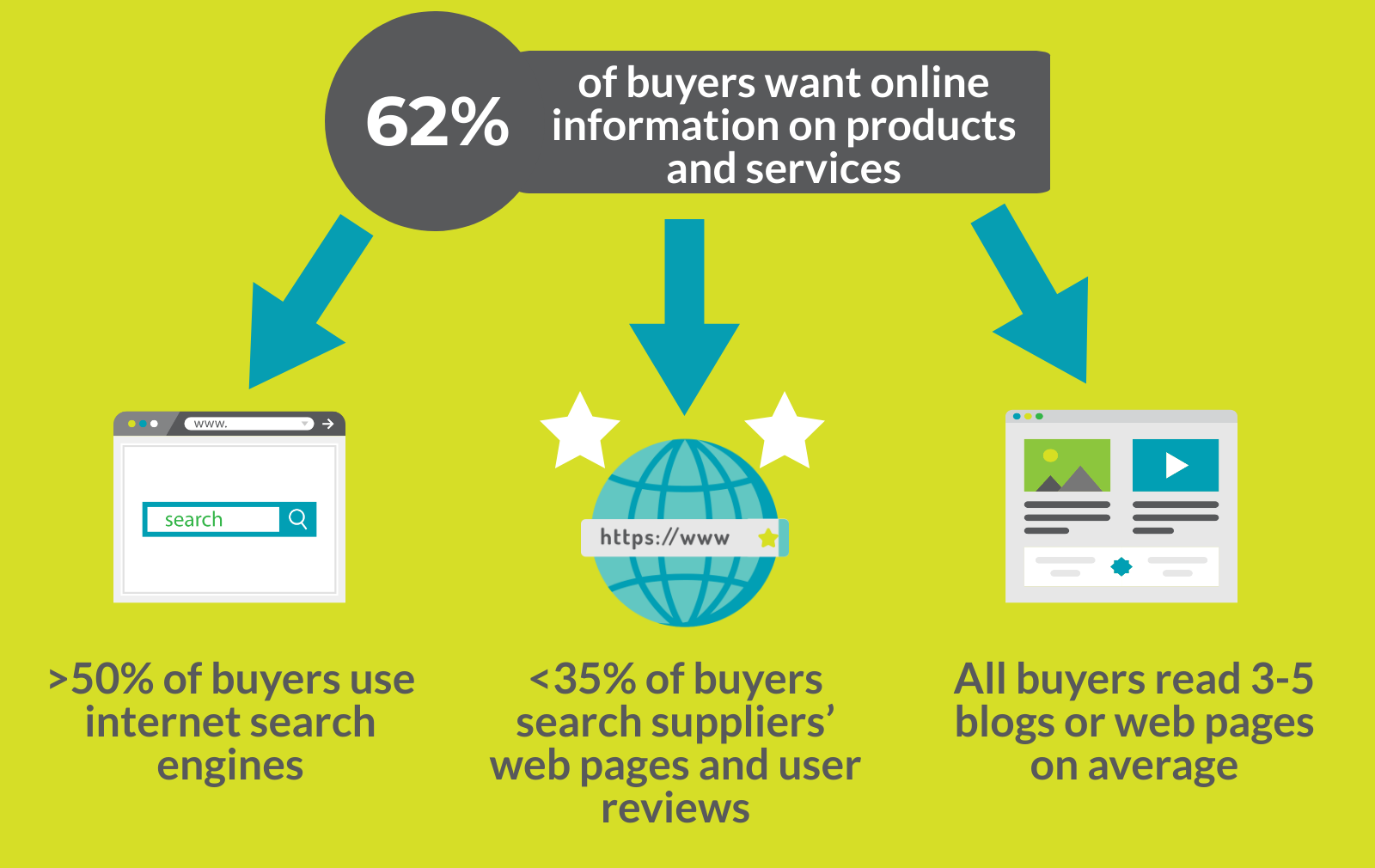 Phase 3; Evaluating available alternatives
In comparison to other B2B buying process phases, the third phase i.e. evaluation/assessment of available alternatives lasts the longest. To be exact, 6.4 days on average. During that period, a B2B client will review and evaluate offers from three to five suppliers. You job is to make sure you are at the top of their choices and here's how.
While evaluating the available offer, B2B buyers regard different factors, but here are the most important:
Price comparison (33%)
Payment terms (29%)
Inventory insight(28%)
Delivery terms (28%)
Product overview (25%)
Comparison of various product characteristics (24%)
Which of these factors will mean the most when buyers make the final decision? More than a third of buyers want a B2B buying process that provides the possibility of creating an online order, tracking the delivery and managing product return
Phase 4; The decision to buy
Executive directors and product managers are involved in the decision making process and buying. If you want to gain advantage during this B2B buying process, provide the following;
A quality service (39% of B2B buyers emphasize it as the most important factor)
Affordable prices (37% of B2B clients emphasize it as the most important factor)
Favourable payment terms (31% of B2B clients emphasize it as the most important factor)
Product features (31% of B2B buyers emphasize it as the most important factor)
Favourable delivery terms (30% of B2B buyers emphasize it as the most important factor)
Product availability (29% of B2B buyers emphasize it as the most important factor)
The option of paying online (26% of B2B clients emphasize it as the most important factor)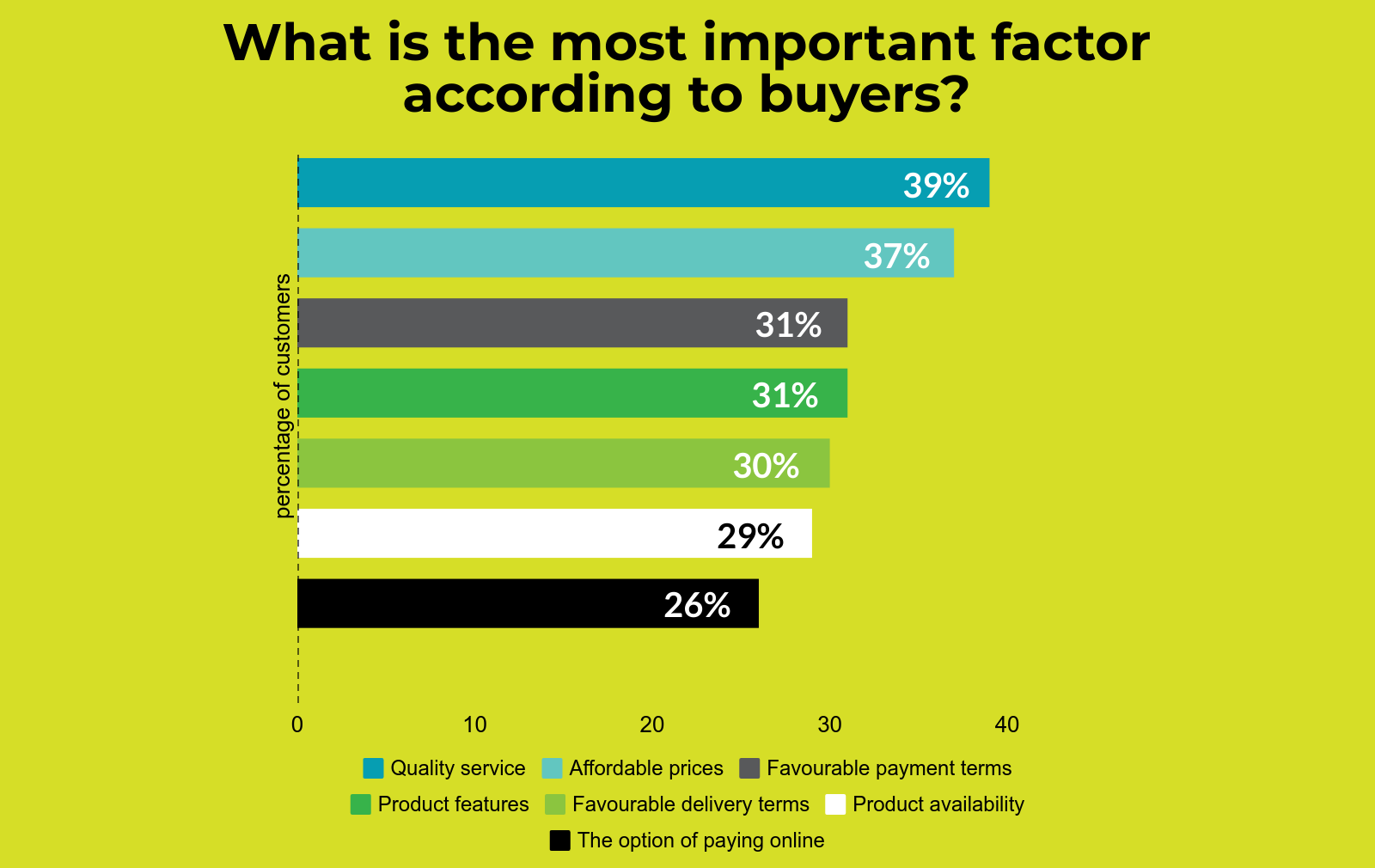 Phase 5; The decision after buying
B2B buying process doesn't end after the buyer placed the order. To keep your B2B clients, you must continue to care for your clients after the order was placed. What does that mean?
Your clients want clear and understandable delivery terms and real time notifications on the order status. They also want updated information on the delivery time and a fast user support in case they have any additional questions.
Also, they want you to ensure them a personalized shopping experience and they are even willing to pay more for it. All these questions are easily and efficiently dealt with by the integrated B2B eCommerce which is based on the ERP system such as Microsoft Dynamics NAV-a/ Microsoft Dynamics 365 Business Central. With the help of these ecommerce platforms, all information and business logic that are in the ERP system become a powerful tool for creating an excellent online shopping experience.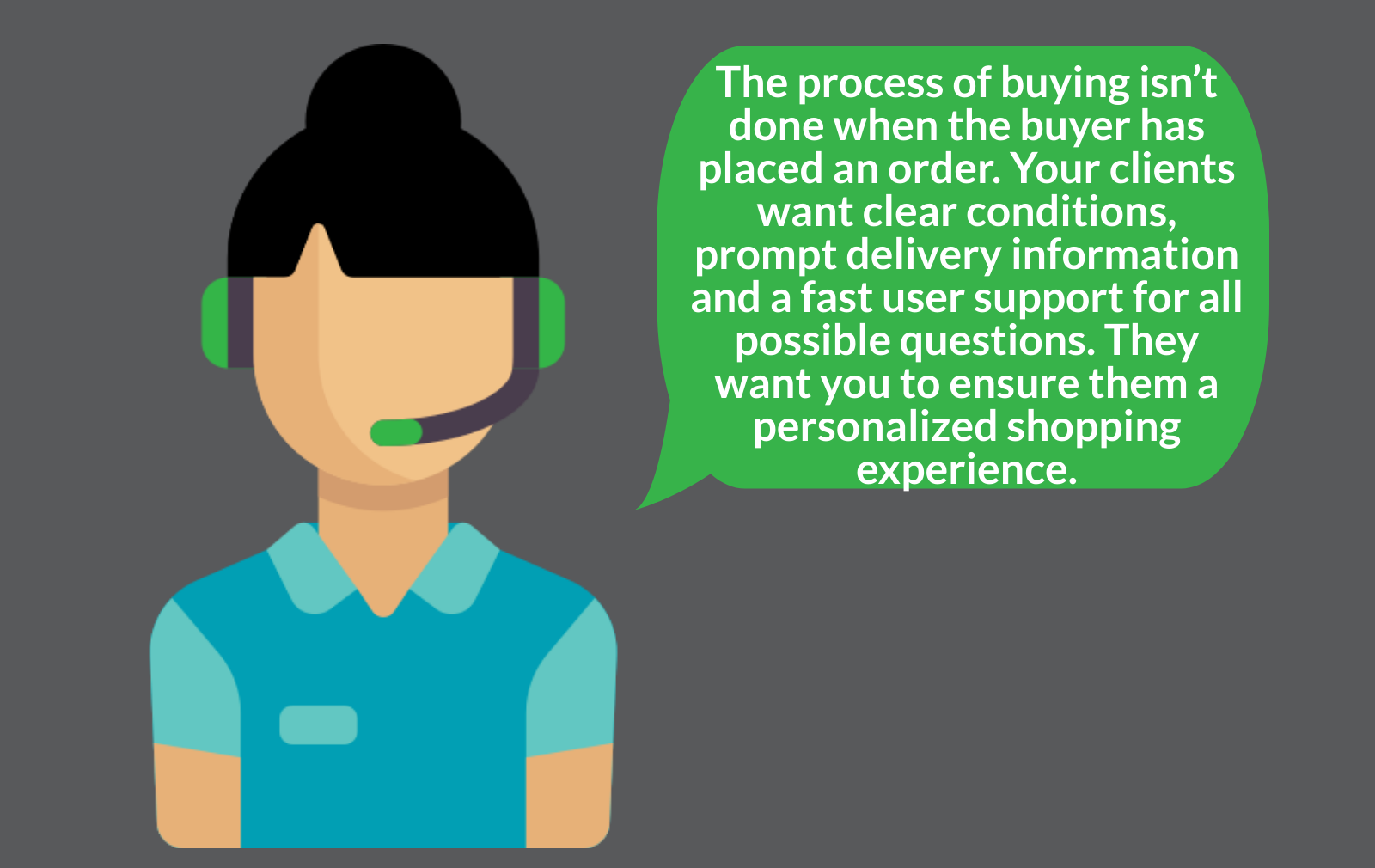 For example, one of the biggest advantages of the integrated B2B eCommerce system is that it makes possible for the buyers to create orders based on direct information on the inventory. What does that mean in effect? Let's say you're a distributer or a manufacturer and buyers resell your products. If you offer them also a fast delivery with your products, they no longer have the need to "pile up" inventory to be sure they'll have requested products at any moment.
Also, in the integrated ecommerce it is not possible for buyers to make a new order not knowingly, at a time when there are still undelivered orders, because they have an overview of all orders, including bids, open and closed orders.
Conclusion
So, if you want to highlight your B2B web shop among competitors, these are fundamental things you simply must provide for your clients:
Simple and fast product search, order placing and paying
Fast delivery, favourable payment methods and simple delivery status tracking
Content which provides answers to common problems that your B2B clients face
If you also want to offer products via B2B ecommerce, contact us for more information and learn everything on the latest software solutions that will help you.